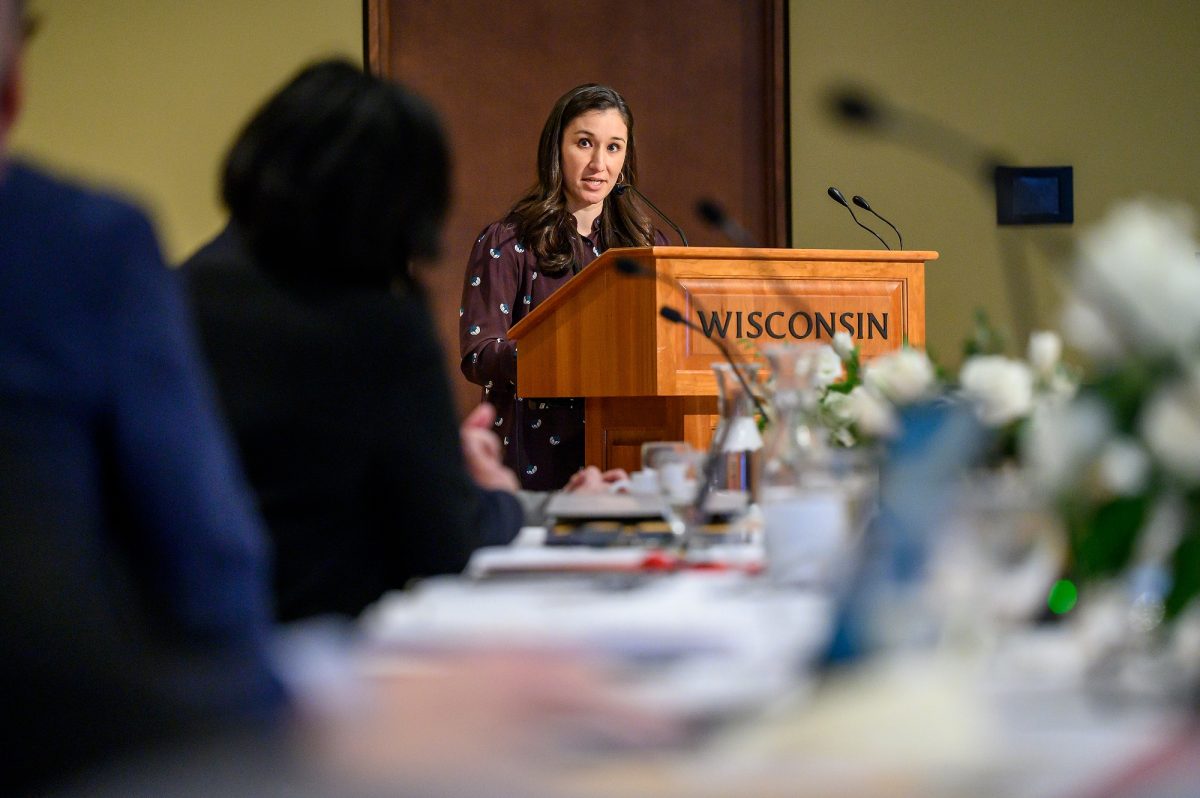 The Communication Arts Department is proud to announce that Dr. Lori Kido Lopez, a professor of Media and Cultural Studies and the director of the Asian American Studies program, has received a 2023 UW System Board of Regents Diversity Award.
Selected from faculty across the entire University of Wisconsin system, winners of this award are recognized for their commitment to creating opportunities for access and achievement for students of historically underrepresented groups. The award was presented at a recent Regents meeting, and it includes an award of $7,500 to aid continuing professional development or program support. According to the Board of Regents, winners are chosen for their "sustainable positive impact on equity and diversity, leading to positive institutional change; accountability demonstrated through routine assessment and feedback to promote forward movement on equity and diversity goals; intersections across multiple dimensions of diversity; and collaborations with other units, departments, or communities – within the university and beyond.
Dr. Lopez exemplifies all of these qualities and has demonstrated her commitment to fostering diversity and inclusion not only in the classroom, but also in her service to the department, the university, among her colleagues, and in her research. Dr. Lopez's work has had a profound impact on the Communication Arts Department. She spearheaded the creation of the Diversity, Equity, and Inclusion (DE&I) committee in 2018 and, as chair, has helped measure and improve the climate for the women, people of color, international students, and LGBTQ+ members of the Communication Arts graduate program. Additionally, the DE&I committee has advocated for changes in the department's hiring practices that now require all search committee members to attend additional training and mandate that at least one member of the DE&I committee participate in searches to ensure that the department remains aligned with the committee's goals in our hiring practices. Dr. Lopez has orchestrated department-wide colloquia on inclusive and accessible pedagogy, as well as offered mini-seminars on the same for faculty at department meetings. Since the institution of this committee, Dr. Lopez has focused on creating follow-through, accountability, measurable impact, and sustainability for all of these initiatives within the department. She is also dedicated to her students, providing exemplary mentorship and support to her graduate student advisees.
Dr. Lopez's commitment to DE&I extends beyond the department; the awards announcement sums up Dr. Lopez's contributions: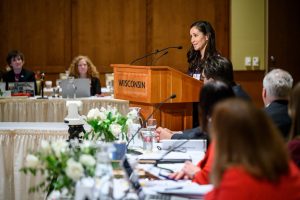 Dr. Lopez's research and teaching focus on ways disenfranchised communities use media to promote empowerment and social justice, focusing primarily on Asian Americans. She is engaged in numerous efforts across campus to promote diversity, equity, and inclusion. As Director of UW-Madison's Asian American Studies Program, she has overseen significant student growth and has prioritized faculty recruitment by hiring early-career scholars into tenure-track faculty roles. She has been instrumental in supporting the university's Asian, Pacific Islander, and Desi American (APIDA) Student Center, which serves hundreds of students each year. As co-chair of the Campus Diversity and Climate Committee and co-chair of the College of Letters & Science Diversity, Equity, and Inclusion Committee, Lopez developed new diversity, equity, and inclusion reporting mechanisms to help build a campus culture of accountability and continual improvement. She advocated to strengthen UW-Madison's Ethnic Studies Requirement, engaging a broad coalition of stakeholders to deepen student understanding of multiple dimensions of diversity. She has written books on race and the media, including an ethnographic study of how Hmong Americans engage with media. Lopez earned the 2020 Chancellor's Inclusive Excellence Award, a UW-Madison Distinguished Teaching Award.
As Communication Arts Department Chair Dr. Derek Johnson remarks, "While we may all share the ideals of correcting the inequalities and injustices that make the university experience more challenging for some students, Professor Lopez has done the real work of creating systemic and measurable systems that move us concretely toward the goal posts.  No one that I have worked with in over a decade on this campus deserves this recognition more than her."
You can learn more about Dr. Lopez's research, courses, and awards here.
You can learn more about the winners of the UW System Board of Regents Diversity Award here.