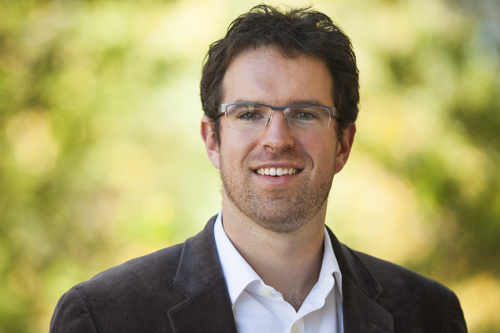 The Department of Communication Arts is pleased to announce that Media and Cultural Studies Professor Eric Hoyt has received a prestigious H.I. Romnes Faculty Fellowship through the Office of the Vice Chancellor for Research and Graduate Education (OVCRGE) and funded by the Wisconsin Alumni Research Foundation. Per the OVCRGE, this fellowship recognizes faculty with exceptional research contributions within their first six years from promotion to a tenured position. The award is named in recognition of the late WARF trustees president H.I. Romnes and comes with $60,000 that may be spent over five years.
Dr. Hoyt has certainly demonstrated excellence in his research contributions. As the Kahl Family Professor of Media Production in the Department of Communication Arts, he has published research on the intersections between media history and the digital humanities, including two monographs, Hollywood Vault: Film Libraries before Home Video and Ink-Stained Hollywood: The Triumph of American Cinema's Trade Press, and three co-edited volumes, Hollywood and the Law, The Arclight Guidebook to Media History and the Digital Humanities, and Saving New Sounds: Podcast Preservation and Historiography.
Additionally, Dr. Hoyt serves as Director of the Wisconsin Center for Film and Theater Research (WCFTR) and the Media History Digital Library, which has digitized over 3 million pages of historic books and magazines for open access. His work has been supported with over $1.4 million in extramural grants from the NEH, ACLS, NHPRC and IMLS, including the WCFTR's recent historic NEH grant to digitally preserve the Wendy Clarke archives.
For more information about the H.I. Romnes Fellowship and this year's winners, read the OVCRGE's announcement. You can learn more about Dr. Hoyt's research, writing, and classes here.