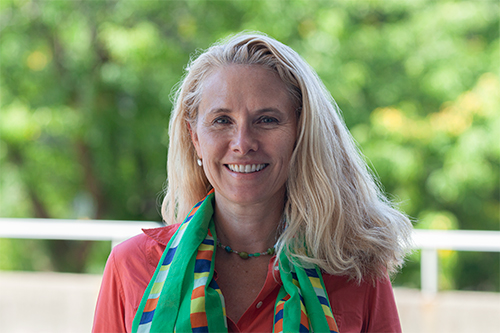 The Communication Arts Department is delighted to announce that Communication Science Professor Dr. Lyn Van Swol has won a Chancellor's Distinguished Teaching Award.
The Distinguished Teaching Awards have been granted since 1953, an honor recognizing the university's finest educators. Dr. Van Swol has more than demonstrated her deservingness to be named among the awardees during her 15 years of service as a member of the Communication Arts faculty. Her commitment not only to pedagogy, but also to mentorship and service is exemplary, and she serves as a model of the innovation, as well as the diversity, equity, and inclusion efforts of the Communication Arts Department.
Dr. Van Swol teaches CA368, Theory and Practice of Persuasion each semester, which is a large lecture for both majors and non-majors, as well as the CA575, Communication in Complex Organization, which is offered for upper-division credit. Dr. Van Swol's classes are among the most highly-rated in the department, with graduate and undergraduate students alike remarking on her accessibility, empathy, and care.
Beyond the classroom, Dr. Van Swol encourages undergraduate involvement in the department by routinely enrolling six to eight students in an independent study that encourages hands-on research experience to develop their skills in coding, running experiments, processing data, and presenting findings. Dr. Van Swol's students have been the recipients of major awards, and many have gone on to pursue master's and doctoral degrees. She is additionally regularly cited as an outstanding graduate advisor, as well as a resource for other graduate students in the department. In 2022 alone, she had 13 refereed journal articles co-authored with students published or forthcoming. Her advisees have gone on to develop successful academic careers at institutions, such as Nanyang Technological University, Texas Christian University, Lawrence Belmont University, Medical College of Wisconsin, and Calpoly Coastal Carolina University.
Her pedagogical influence reaches beyond individual mentorship and collaboration; Dr. Van Swol used her sabbatical in the spring of 2021 to participate in The Discussion Project, then spent the summer developing a Freshman Interest Group (FIG) on Persuasion and Environmental Communication. This FIG models her commitment to diversity, equity, and inclusion, with a heavy emphasis on intersectionality and the ways climate change affects resource-challenged and marginalized communities. Her research and teaching are cross-cultural, emphasizing non-native and native speakers, especially in the context of Asian communication and persuasion. She has also spent a decade encouraging historically underrepresented or first-generation students and military veterans through her participation in the Undergraduate Research Scholars Program.
Her commitment to pedagogical excellence, innovation, and mentorship extends to her peers, as she has a long track record of service to the department and the university. She has not only been a Chair and member of the Teaching & Learning Technology Advisory Group, but she also served as the Chair of the search committee for the Vice Provost for Teaching and Learning. She has also served on the L& S Curriculum Committee and the selection committee for Educational Innovation Grants. She has also been invited to give talks on pedagogy across campus.
In addition, she is currently the Associate Chair of the Communication Arts Department and serves as a faculty advisor to the department's undergraduate student organization (CASA), as well as having repeatedly served on the Communication Arts Undergraduate Committee. She also helped ensure stability and connection by serving on the Committee for Continuity of Instruction Planning during the early days of the pandemic.
She has done all of this while maintaining a commitment to excellent research, winning awards and consistently publishing in top academic journals. You can learn more about Dr. Van Swol's research here.