H.I. Romnes Faculty Fellowship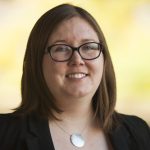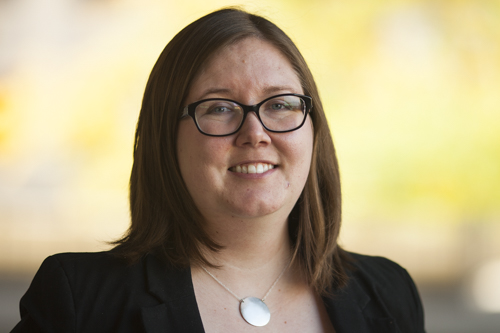 Though her academic home is in Communication Arts, Professor Johnson works at the intersection of rhetorical studies, disability studies, and the medical humanities. Praised by colleagues for her productivity, academic rigor, and originality, Johnson has published five books and a wide array of additional works since joining the UW-Madison faculty in 2012. Highly appreciated by her students, she has received exceptional teaching evaluations in Rhetoric and Health, a course that draws an equal mix of students from Comm Arts and students from pre-health and science majors.
Johnson's early work focused on topics in neuroscience, considering psychiatric disability, the rhetorical history of lobotomy, and the stigma of mental illness. She has since directed her research and writing to "vital advocacy," that is, advocacy on behalf of life itself. In this vein, her current book project On behalf of life explores tensions around the mystery of life, its definitions, and arguments for its protection and preservation. A key chapter examines the ethics of human exploration of Mars, where NASA's Mars Rover missions spend a substantial sum sterilizing equipment so as not to introduce earth organisms into its environment. In this scenario she inquires: are we obligated to leave its unique microbial life–perhaps a type not found on earth–undisturbed?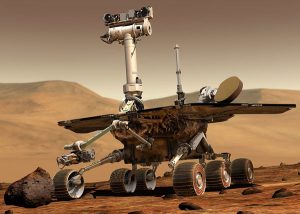 The rationale for sterilizing equipment is scientific integrity, as scientists want to ensure that what they find on Mars actually comes from Mars. But as Johnson notes, "Ensuring responsible space exploration goes back to at least 1967 with the signing of the Outer Space Treaty, which includes a reference to the contamination of planets that humans explore." Microbes on Mars may seem a distant ethical concern, but they take on outsize significance because "there, microbes stand for life itself." As NASA and private citizens set their sights on extra-planetary exploration, Johnson's work adds an important voice to discussions of vital advocacy.
With the support of the H.I. Romnes Faculty Fellowship, Johnson plans to undertake another book project, likely in the realm of rhetoric and bioethics.
Charles Kneupper Award (Rhetoric Society of America)
In 2020, Professor Johnson served as guest editor for a special issue of Rhetoric Society Quarterly, focused on disability, in/visibility, and risk, which she co-edited with Krista Kennedy. She also contributed the essay Breaking Down: On Publicity as Capacity. Johnson reviewed early 20th century newspaper reports of nervous breakdowns in public spaces. In the article, she considers publicity as a "feature of body/mind," and considers the harm it can cause individuals, for example, the anxiety that appearances may cause to celebrities or other figures in the public eye, the unfettered circulation of one's image or video, and the lack of control over how one may appear.
The Charles Kneupper Award acknowledges the best article published in Rhetoric Society Quarterly in a given year and is selected annually by a sub-committee of the Society's editorial board.
##
The Department of Communication Arts congratulates Professor Johnson on her receipt of both honors.