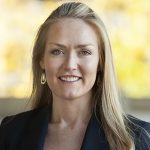 In May 2017, late-night talk show host Jimmy Kimmel delivered a live, heartfelt, and tearful monologue about his newborn son's open heart surgery and the importance of health care coverage. The monologue, and a subsequent outcry criticizing Kimmel for wading into politics, sparked Maureen Mauk's interest in late-night television. Mauk, a graduate student and PhD Candidate in media and cultural studies, was considering a topic for Professor Eric Hoyt's Graduate Historiography Seminar when she turned to the archives of the Wisconsin Center for Film and Theater Research (WCFTR). With the help of Mary Huelsbeck, assistant director of WCFTR, Mauk discovered Faye Emerson, a brilliant, glamorous, and groundbreaking television personality. Emerson, Mauk would eventually argue, was the original and unheralded host of late-night television.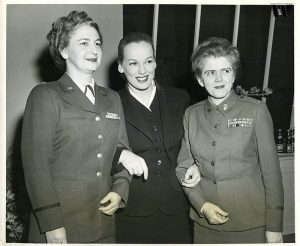 During World War II, women had an active role in radio, in large part because many men were occupied with the war effort. With "The Faye Emerson Show," which ran from 1949-1951 on CBS, Emerson, already a Hollywood film actress and star on Broadway, became the first late-night television host. Her guests ranged from stars like Frank Sinatra to representatives from the United Nations. A feminist ahead of her time, Emerson faced sexist criticism both from the sponsors and networks, and from some viewers irritated by her willingness to speak her mind. Says Mauk, "She was funny and fearless and had to fight to have her voice heard, and to bring women into the equation in politics, government, and life in general."
One viewer wrote to Emerson, mansplaining, "Better stick to the plunging neckline, Faye, politics is not for little girls." In one of her shows, she read viewer mail and brought attention to his criticism live on the air, even calling out the writer by his full name and hometown. In her tactful reply, she noted, "I don't think that's true altogether, I think politics is everybody's business."
That said, given her beauty and intellect, she also dazzled viewers. "The American public fell in love with Faye Emerson just as they were also falling in love with the new TV medium," shares Mauk. She was nominated for an Emmy for "Most Outstanding Television Personality," losing to Groucho Marx in 1951, and was also nicknamed in trade periodicals "The First Lady of Television." In order to blunt critiques of her late night performance, Emerson regularly recorded her programs as kinescopes, an early technique for capturing live television achieved by pointing a film camera at a TV monitor, recording in real time. Fortunately for media scholars like Mauk, Emerson's extensive archives were donated to WCFTR by her son, William "Scoop" Crawford.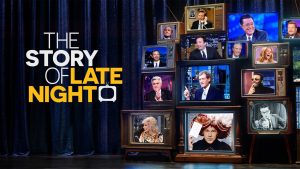 Following that first paper on Faye Emerson, written in her first semester as a grad student at UW-Madison, Mauk continued working with the archivists at the WCFTR to advance her research. The paper, titled "Politics Is Everybody's Business: Resurrecting Faye Emerson, America's Forgotten First Lady of Television," won a first-place student writing award with the Society of Cinema and Media Studies and was eventually published in the Journal of Cinema and Media Studies. CNN and production partner Cream Productions, discovered her research while filming a new original docu-series called The Story of Late Night. The crew visited campus to interview her along with filming the work done by then WCFTR media archivist, Amy Sloper and media technician Boyd Hillestad. Mauk appears in Episode One, "Inventing Late Night."
Mauk is proud of her Emerson scholarship, and says she feels like she's helping to restore Emerson to public awareness, since the film star and talk show host left the limelight in the early 1950s, retiring to Mallorca, Spain, never receiving the recognition she was due.
Mauk credits former WCFTR archivists Amy Sloper and Mary Huelsbeck, her advisor and professor, Dr. Eric Hoyt, and mentor Dr. Susan Murray, Professor of Media, Culture, and Communication at New York University, for supporting her scholarship, and points to the film scanner, funded in large part by members of Comm Arts' CAPS alumni board, as integral to the study of archival footage like that saved in Emerson's archives.
Coming from the L.A. television production world, inspired by Emerson's story, and encouraged by renewed interest in the role of women in television and media, Mauk is developing a show with writer Teresa Sullivan and husband-producer Hayden Mauk about Emerson's life that she describes as "Mrs. America meets The Larry Sanders Show."
---
Learn more about how Communication Arts uses our film scanner to preserve and study archival media.