If you've been paying attention—to the degree that Lori Lopez has been paying attention—then you know it didn't start when a white man gunned down six female Asian American service workers at a series of spas as part of a mass shooting in Atlanta back in March.
Lopez, a UW-Madison Professor of Communication Arts and Director of the Asian American Studies Program, has been studying the phenomenon of racism against Asian Americans for her entire career. She has watched it amplify over the past year—whether that's been former U.S. President Donald Trump continuing to refer to the COVID-19 virus as the "Kung Flu," random assaults on Asian Americans in public or the ugly graffiti that was scrawled on State Street in March 2020.
"When people think about racism, they don't always think about violence toward Asian Americans," Lopez says. "And yet Asian people are getting punched and kicked in the street on an almost daily basis now. Because of that, there's been a lot more conversation around these issues."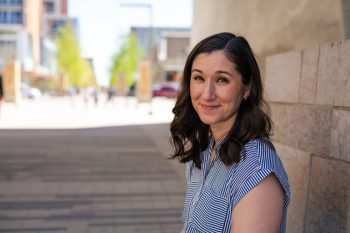 That's a big part of the reason Lopez, working in conjunction with Lisa Ho, a faculty associate in the Asian American Studies Program, and Erica Kanesaka Kalnay, a doctoral candidate in English, created #AtlantaSyllabus: An Asian American Studies Perspective on Anti-Asian Violence in 2021. It's a curated list of resources aimed at raising awareness of and starting discussions about racism and violence toward Asian Americans. Arranged in a 12-week structure that focuses on specific topics like Asian American identities, media representation of Asian American women, and immigration and exclusion, the #AtlantaSyllabus looks like something you might receive from a professor on the first day of the semester. But it's not a class; it's a framework for the public, a map to help interested individuals begin to grapple with these thorny issues.
"For the last year, everyone in Asian American Studies has been called upon a lot to offer their perspectives," explains Lopez. "This idea that we could do more to help people understand these issues was very intriguing."
The #AtlantaSyllabus does just that, highlighting articles, podcasts and videos from prominent Asian American artists, academics and journalists. It also includes resources that demonstrate the long history of racial animus toward Asian Americans in the United States—for instance, the first episode of the PBS documentary series "Asian Americans." The resource lists are paired with discussion questions that shed light on questions about the myth of Asian Americans as "the model minority" and the fetishizing of Asian women.
The syllabus also tackles the question of how the phenomenon of hatred and violence against Asian Americans shares similarities and differences with racism against other minority groups. As Lopez points out, all racial groups have unique histories in the U.S. that shape what kind of racism they face.
"Asian Americans have had a different relationship to the criminal justice system than African Americans. For instance, deportation has been more of a threat than incarceration," she notes. "But even though racial minorities have faced different circumstances and even been pitted against each other, there has also always been political solidarity between Black and Asian activists. We wanted to point to that history of working together."
Last month, Lopez gave a RED talk sponsored by the School of Computer, Data and Information Sciences (CDIS) about the ways in which technology (think the Internet and social media) enables racism to a much more expansive and insidious degree. A few weeks ago, she gave a talk to a group of Asian American journalists about how mistakes made in the news coverage of the Atlanta shootings dominated online conversations. Even though Lopez is wary of social media's double-edged sword when it comes to spreading and combatting racism and violence, the hashtag in the syllabus is indicative of how she hopes the information will spread online.
"We can see that Asian Americans are really suffering right now, and we cannot continue to ignore it," says Lopez, referring to the increase in violence but also the struggles of Asian Americans who are queer, trans, disabled, working class, undocumented, or otherwise marginalized. "Where did that come from and how will you stop that? Maybe this is where it starts."
Here in Madison, Lopez is encouraged by some recent developments—last fall's election of Rep. Francesca Hong, the first Asian American elected to the Wisconsin Legislature, is one, and so is the creation of the Asian Pacific Islander Desi American (APIDA) Student Center in the Red Gym on the UW-Madison campus. But she also remains concerned. At a recent meeting of the APIDA Affinity Group, a community-building group organized by the Division of Diversity, Equity and Academic Achievement (DDEAA), Lopez says there was a marked increase in fear and anxiety among Asian Americans on campus and in Madison.
To her, it's another justification for the importance of the #AtlantaSyllabus.
"Being part of Asian American Studies has always meant calling attention to activism and sharing the work of communities on the ground," says Lopez. "Taking back the narrative, that we're not just complicit victims. We're fighting to be seen. We're fighting for our freedom."
The #AtlantaSyllabus was officially released earlier this month and can be accessed here.