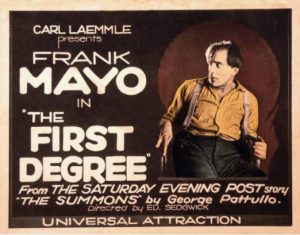 Communication Arts alum Olivia Babler (BA'13) was recently part of a team that uncovered a silent film from 1923 that was presumed to be 'lost', The First Degree (dir. Edward Sedgwick, Universal Pictures). The discovery is significant because a 2013 study by the Library of Congress concluded that 75% of American feature films produced between 1912–1929 are now considered 'lost', due to destruction and deterioration.
Olivia is the digitization manager at Chicago Film Archives, a non-profit organization dedicated to preserving films that represent the Midwest, which is where the film was discovered. Olivia has been interviewed by CBS News, Chicago Tribune, NitrateVille Radio, and more about the film and its rediscovery.
The coursework and opportunities presented by the Comm Arts department were instrumental in Olivia's decision to pursue a career in film preservation. Olivia first worked with analogue film in Comm Arts 355 (Intro to Media Production), which is when she became interested in working in film archives. Her internship at the Wisconsin Center for Film & Theater Research, as well as her time working at the Instructional Media Center (where she projected films for classes and prepped 16mm film for development in Vilas Hall's long lost darkroom) furthered her passion for analogue media. She decided to pursue a Masters degree in film preservation after writing a research paper about feminism and film archiving for Professor Kelley Conway's Women & Film seminar.