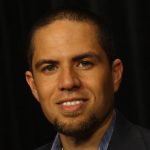 Aaron Greer, new Associate Professor in Communication Arts, met author Marsha Walker at Temple University while earning his MFA. Greer was drawn to Walker's semi-autobiographical short stories about a girl growing up in Appalachia, Eastern Kentucky, and plotting her escape. Big Sandy is a fish-out-of-water tale, going beyond the often stereotypical portrayals of the white working-class.
"As a biracial kid from Milwaukee, the story resonated with me," says Greer. "I'm interested in stories of people underrepresented in media, not just people of color."
Greer originally envisioned pitching Big Sandy as a TV series, but as it covers three decades of the protagonist's life, it would prove very expensive to shoot. Since he found the book very cinematic, and the writing very visual, Greer decided to pilot it as a podcast. Working with local Chicago actors, he produced his first episode in 2019, and submitted to the Independent Filmmaker Project. IFP, founded in 1979, is the largest and longest running not-for-profit dedicated to independent film. This is their first year to include audio storytelling along with the visual form.
Greer is excited to be selected by IFP.
"I can't just cold-call Netflix and talk to them about my project. But IFP will help me create connections to platforms and media companies that could support the work."
Prior to Big Sandy, he co-directed and produced the award-winning feature film, Service to Man (2017), starring Keith David and Lamman Rucker.
As an academic, Greer has over 20 years of teaching experience, designing and leading courses that range in topic from directing, to screenwriting, to editing, to African-American cinema history and basic film aesthetics. He comes to UW-Madison from Loyola University Chicago, where he lead the Film and Digital Media program for six years.