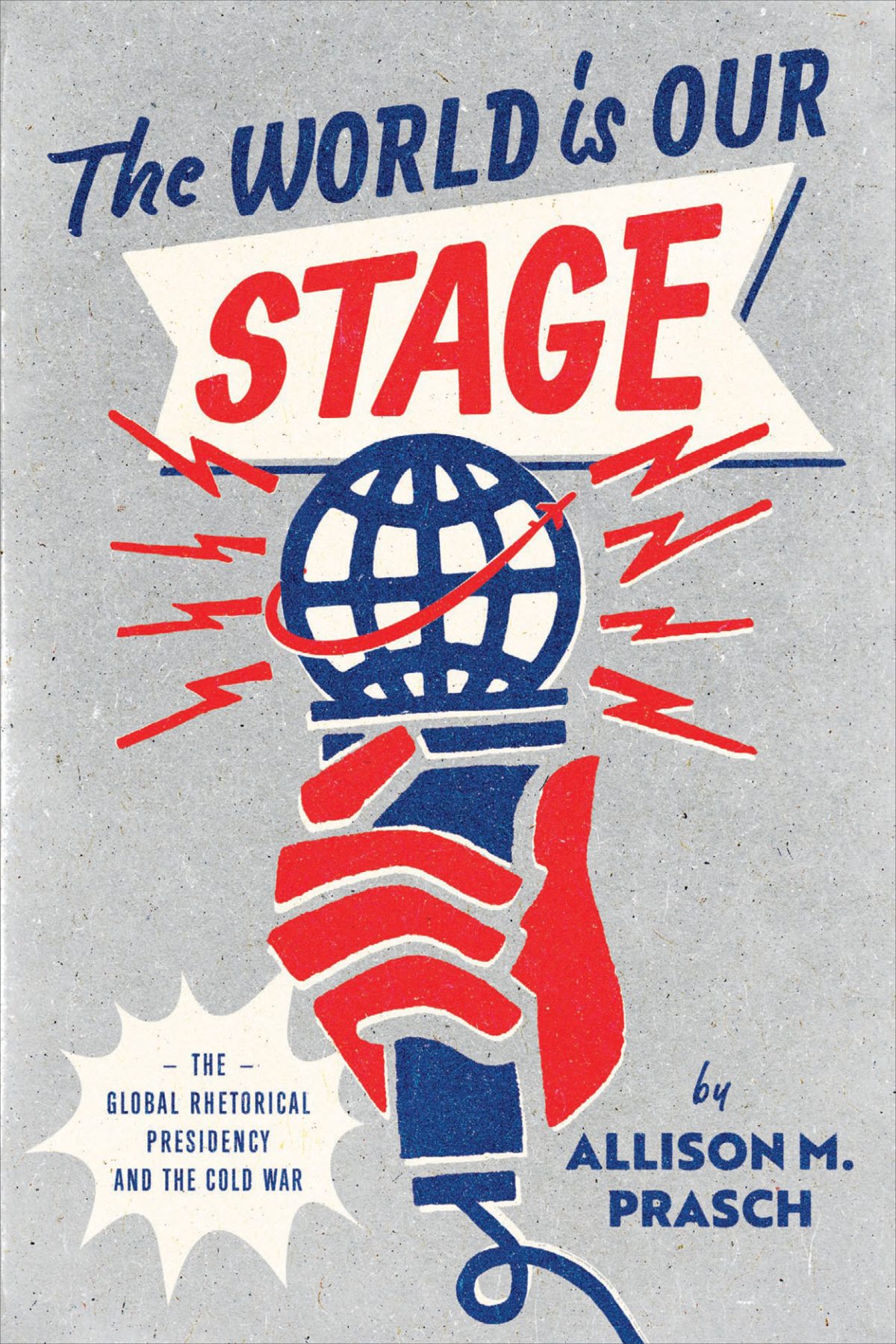 Dr. Allison Prasch, an assistant professor of Rhetoric, Politics, and Culture in the Department of Communication Arts, has recently published a new book entitled The World is Our Stage: The Global Rhetorical Presidency and the Cold War (University of Chicago Press, 2023). We caught up with Dr. Prasch to learn more about her book, her research process, her classes, and her time at UW-Madison (as well as get some spoilers for her next book!):
How did you come to write about presidential rhetoric during the Cold War. What drew you to this topic? And what is the book about?
As a scholar of U.S. presidential rhetoric and public address, foreign policy, and the rhetorical history of space/place, my research examines how chief executives and other public officials discursively create and sustain a particular vision of the United States to audiences at home and abroad. I've long been interested in the Cold War because it was, at its core, a rhetorical creation. Where the two world wars were fought with tanks, bombs, and military force, the Cold War quickly became a symbolic contest of words, images, and propaganda campaigns. These conflicts spread beyond the boundaries of national identity as countries aligned themselves ideologically and politically with the United States or the Soviet Union.
In my book (The World is Our Stage: The Global Rhetorical Presidency and the Cold War from the University of Chicago Press), I consider one aspect of the United States' Cold War campaign: how U.S. presidents utilized their physical travel beyond the nation's own borders (or what I refer to as the global rhetorical presidency) to constitute, define, and even limit the boundaries of the "Free World" global imaginary. For a long time, scholars interested in U.S. presidential rhetoric focused on the words presidents say. This is, of course, very important. But I was interested in understanding the relationship between spoken oratory and other aspects of delivery, such as the places speeches occur, how the physical travel of the U.S. president symbolizes specific foreign policy objectives, and how the mediation and circulation of presidential rhetoric reaches audiences at home and abroad.
As I show in the book, Cold War U.S. presidents saw their physical travel to and rhetoric in specific places and regions as a deliberate rhetorical strategy, a way to articulate and accentuate the boundaries of American influence. Where the president went—or chose not to go—communicated volumes about what certain places or regions meant, and how they functioned within a Cold War world. These movements delineated places or locales central to U.S. foreign policy while also elevating new spaces in the "Free World" global imaginary. Multiple administrations also considered how images and live recordings of the president's rhetoric in place could reach audiences around the world. This intentional media coverage of these international tours enabled the president's rhetoric abroad—be it through photographs, radio broadcasts, newsreel footage, or live television—to extend beyond the local into the global as U.S. presidents used their location to argue for a specific way of being and acting in the Cold War world. Ultimately, the deliberate planning, construction, placement, and circulation of these tours resulted in a vivid, dramatic enactment of U.S. foreign policy for all the world to see.
Tell us about your archival research — where and how did you conduct it? What was the biggest challenge or the most exciting thing you stumbled upon? 
During the research and writing of this book, I traveled to four presidential libraries—Harry S. Truman Presidential Library (Independence, MO); Dwight D. Eisenhower Presidential Library (Abilene, KS); Richard M. Nixon Presidential Library (Yorba Linda, CA); Ronald Reagan Presidential Library (Simi Valley, CA)—and the National Archives and Records Administration in College Park, MD, which houses the records of the U.S. State Department and the United States Information Agency (USIA). I also worked with archivists at the John F. Kennedy Library in Boston, MA to digitize the collections I needed for my research on JFK. I also conducted field work in Europe related to Truman's visit to Potsdam (Germany), Kennedy's visit to Berlin (Germany), and Reagan's visit to Normandy (France).
Archival research is exhilarating, exhausting, and incredibly time consuming. One of the biggest challenges I encountered was sorting through all the relevant materials across five presidential administrations—and the dozens of individual collections housed within each archive. I wanted to tell the story of how U.S. presidents, cabinet secretaries, White House officials, State Department staff, USIA representatives, and even CIA operatives planned these trips to elevate the United States' image during the Cold War. To do this, it meant working across dozens of individual collections from each administration to piece together what happened, when it happened, and why. It's like creating a massive historical jigsaw puzzle from the ground up. There were moments during this process that I even dreamt about being a member of Kennedy's White House staff preparing for his Berlin trip—that's how deep into the weeds I got!
Writing a book is a gargantuan task — how did you approach the process? And how did working here in the Communication Arts department at UW-Madison support you or aid you in the process of writing?
All books are, in some way, motivated by a personal fascination with a topic or question that the author just can't let go. For me, that question was whether U.S. presidents and their advisers actually believed that going global could function as a deliberate rhetorical strategy during the Cold War. I didn't want to simply assume they did because it looked that way; I wanted to find the answer for myself. That's why I started in the archive—and the evidence was overwhelming.
One of the most helpful parts of my writing process was having the opportunity to workshop an initial draft of the manuscript through the First Book Program sponsored by UW-Madison's Center for the Humanities. Faculty from UW-Madison and two scholars from outside the university read the project and provided detailed feedback during a two-hour Zoom session during the Fall 2020 semester. This was transformative in helping me think through my overall argument and the story I wanted to tell. Generous financial support from the Department of Communication Arts and the Office for the Vice Chancellor for Research and Graduate Education allowed me to finish several archival visits and devote two summers to revising the manuscript prior to submission.
You also teach about Cold War rhetorics —tell us about the classes you teach and how you've translated your research into the classroom.
I love bringing my research—and archival collections!—into the classroom. The work I've done for this book has shaped how I teach a number of classes here at UW-Madison, including Rhetoric of the Cold War, U.S. Presidential Rhetoric and Foreign Policy, and Foreign Policy Rhetoric in a Global Era. I'll often provide students with PDFs of archival documents I've collected to help them see the "behind the scenes" aspects of a specific moment in time. Drawing from these original sources allows students to interpret and analyze the material themselves, and become eyewitnesses to how history is shaped by the choices of individuals and institutions.
Do you have plans to write another book?
Yes! I'm currently writing a history of the rhetorical construction and spatial design of Washington, D.C. In particular, I focus on the relationship between the city's location (geographical and topographical) and the racial politics of the new nation. Why is it, for example, that Washington, D.C. was built between two slave-holding states (Virginia and Maryland) with direct access to waterways that made the trade of tobacco, cotton, and enslaved persons possible? We often think about Washington, D.C. as this embodiment of freedom and democracy. But the city was literally built by and upon the institution of slavery and anti-Black racism. If you walk on the National Mall and see landmarks to Jefferson and Washington, you might not know that this space was also once the site of a slave market. In this new book, I ask how we first acknowledge and then reconcile that history. This summer, I'll be taking a research trip to Washington, D.C. to work in the National Archives and Library of Congress to continue the project. In many ways, this new book is asking similar questions to those I pursued in The World Is Our Stage. But where my first book analyzed how rhetorical strategies of movement, place, and embodiment influenced the Cold War global order, my second one asks how U.S. politicians approached the spatial design and physical construction of Washington, D.C. as an opportunity to create, as French architect Pierre Charles L'Enfant put it to President George Washington, the "capital of an extensive empire."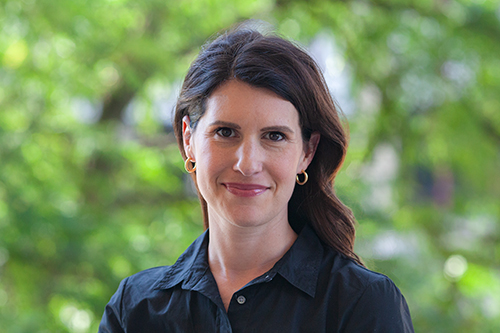 Thank you to Dr. Prasch for sharing about her book and her research! You can get a copy of the book from the University of Chicago Press.
You can also learn more about Dr. Prasch's research and courses on her faculty page.