Allison Prasch
Rhetoric, Politics, and Culture
Assistant Professor
she/her/hers
(608) 262-2095
6154 Vilas Hall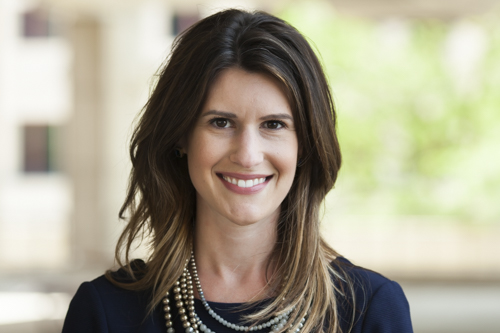 Expertise and Activities
My research and teaching focuses on U.S. presidential rhetoric, public address, foreign policy, space/place, and rhetorical history, theory, and criticism.
I am currently completing a book manuscript on Cold War U.S. presidential rhetoric. Entitled The Global Rhetorical Presidency: Cold War Rhetoric on the World Stage, this book examines how U.S. presidents used their rhetoric abroad as a persuasive strategy. As chief executives and other governmental officials faced the urgent task of enlarging the United States' role in the Cold War world, they proactively deployed the physical presence of the U.S. president abroad—and the mediation, transmission, and circulation of these visits—as a political and psychological weapon. Drawing on archival research from five presidential libraries, the Department of State, and the United States Information Agency and fieldwork in Europe, I examine how Presidents Truman, Eisenhower, Kennedy, Nixon, and Reagan used their international tours—and, importantly, the widespread media coverage of such tours—as a way to extend the United States' global influence, expand the reach of presidential power in foreign affairs, and bolster their own image at home and abroad. Ultimately, this book argues that Cold War U.S. presidents took their rhetoric abroad in an attempt to constitute an imagined community of peoples and nations who, although separated by physical distance or national allegiance, were united in their shared opposition to Soviet communism.
Education
Ph.D. Communication Studies (Rhetoric), University of Minnesota, 2016
M.A. Communication Studies (Rhetoric), University of Minnesota, 2011
Honors/Awards
First Book Program Award, Center for the Humanities, University of Wisconsin-Madison, 2019
Golden Anniversary Monograph Award, National Communication Association, 2017
Outstanding Dissertation Award, American Society for the History of Rhetoric, 2016
Articles
2019. "Obama in Selma: Deixis, Rhetorical Vision, and the 'True Meaning of America.'" Quarterly Journal of Speech 105.1: 42-67.
2017. "Saluting the 'Skutnik': Special Guests, the First Lady's Box, and the Generic Evolution of the State of the Union Address." Rhetoric & Public Affairs 20.4: 571-604. [First author with Julia Scatliff O'Grady]
2017. "'A Journey for Peace': Spatial Metaphors in Nixon's 1972 'Opening to China.'" Presidential Studies Quarterly 47.4: 646-664. [Co-author with Zoë Hess Carney]
2016. "Toward a Rhetorical Theory of Deixis." Quarterly Journal of Speech 102.2: 166-193.
2015. "Retelling Watergate: Apologia, Political Eulogy, and Richard Nixon's 'Final Campaign.'" Southern Communication Journal 80.4: 271-292.
2015. "Maternal Bodies in Militant Protest: Leymah Gbowee and the Rhetorical Agency of African Motherhood." Women's Studies in Communication 38.2: 187-205.
2015. "Reagan at Pointe du Hoc: Deictic Epideictic and the Persuasive Power of 'Bringing Before the Eyes.'" Rhetoric & Public Affairs 18.2: 247-276.
Book Chapters
2019. "Reading the Presidency In Situ: Obama in Cuba and the Significance of Place in U.S. Presidential Public Address." Reading the Presidency: Advances in Presidential Rhetoric, Stephen J. Heidt and Mary E. Stuckey, eds. New York: Peter Lang, 44-64.
2018. "The Two Madam Secretaries: Hillary Rodham Clinton, Elizabeth McCord, and Mimetic Representations of 21st Century Feminism." Women, Feminism, and Pop Politics:From "Bitch" to "Badass" and Beyond, Karrin Vasby Anderson, ed. New York: Peter Lang, 223-244.
Selected Lectures & Media Appearances
Courses
CA 360 – Introduction to Rhetoric in Politics and Culture
CA 610 – Rhetoric of the Cold War
CA 610 – U.S. Presidential Rhetoric & Foreign Policy
CA 610 – Rhetoric of the 2020 U.S. Presidential Election
Curriculum Vitae
Office Hours
Mondays, 1:00-2:00 pm (via Zoom)
Wednesday, 1:00-2:00 pm (via Zoom)