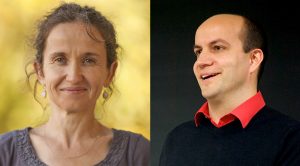 The Department of Communication Arts is honored to announce that Professor Marie-Louise Mares and Professor Jonathan Gray have been named ICA Fellows. The International Communication Association (ICA) celebrated Dr. Mares and Dr. Gray last Saturday, May 28, at its annual conference, held this year in Paris.
Fellow status in the ICA follows a rigorous nomination process, during which current Fellows and the ICA Board of Directors vote on candidates with exceptional records of scholarly achievement in the field of communication. Dr. Mares and Dr. Gray enjoy the honor of being only the fourth and fifth faculty members in Communication Arts history to be named ICA Fellows, in addition to being the only active current faculty to hold the title. Dr. Mares, of communication science, is affiliated with ICA's Children, Adolescents, and Media division, with an overall research focus on media use and identity development. Dr. Gray, of media and cultural studies, is affiliated with ICA's Popular Media & Culture division and studies how media entertainment and audiences interact. Both scholars can now add the title of ICA Fellow to their long list of accomplishments.
Congratulations, Dr. Mares and Dr. Gray!