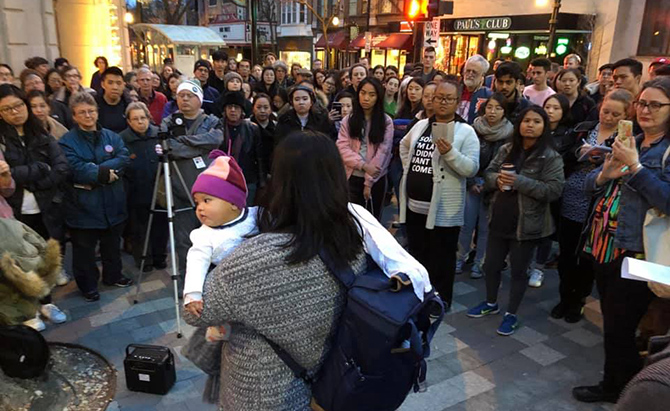 Last week, professors Lori Kido Lopez and Timothy Yu of UW–Madison sat down with Wisconsin Public Radio's Rob Ferrett to discuss the Overture Center's recent run of Miss Saigon and why the musical is problematic. In the week leading up to the production's opening night, a panel discussion about Miss Saigon and Asian American representation was to take place, but the Overture Center canceled last-minute and has not rescheduled.
Communication Arts Professor Lopez, whose academic expertise lies in Asian American media activism, explains the problems with Miss Saigon. For one, the musical's premise involves a Vietnamese prostitute who is trafficked into a relationship, but it is presented as a love story. The musical also upholds stereotypes that Asian American women are merely sexual objects and Asian men are villainous and cruel, which affirms Orientalist ideologies about the superiority of the West.
"If someone wants to see this play, I think it's really important for them to understand how Asians have been represented and misrepresented and left out of their own stories, historically in the US, and to think about what that means as they're watching it," Lopez says.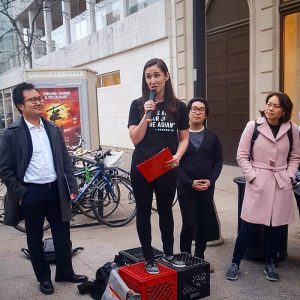 The panel was titled "Asian American Perspectives on Miss Saigon: Stereotypes, History, and Community" and was supposed to include Lopez, Josephine Lee from the University of Minnesota, Sandra Gajic from Overture Center, and some local experts. Yu, who is a Professor of English and Asian American Studies, had written a short essay titled What's Wrong with Miss Saigon? to be included in the show's program, but the musical's production company ultimately rejected its inclusion.
When the panel was canceled, Lopez led a teach-in on the sidewalk outside of the Overture Center in an effort to keep a dialogue open with the public. Speakers covered the same topics they had intended to cover during the panel.
"This conversation is going on with or without the Overture Center, it's something that can go on in other types of spaces, and the public is asking these kinds of questions," Yu says.
"I think that we should honor the stories that have been told by Asian American playwrights and other Asian American performing artists and showcase [them]. I think different choices could be made about what to program and whose voices we should be highlighting," Lopez says.
Listen to the WPR broadcast here: https://www.wpr.org/asian american-activists-express-concern-over-racial-depictions-miss-saigon