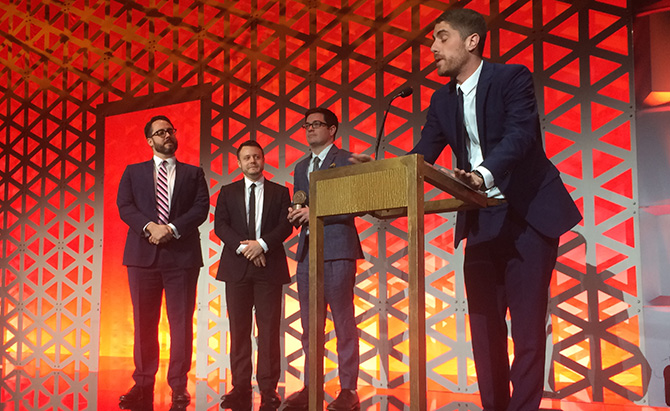 The winners of the 77th Peabody Awards were recently announced. The Peabodys are the oldest award for electronic media, and to many the most prestigious: Walter Cronkite famously noted that "you count your Emmys; you cherish your Peabodys." They acknowledge not just excellence but "stories that matter," and media that contributes substantially and significantly to civic discourse and understanding, awarding across a wide range of media types. They are determined by unanimous, consensus vote of their seventeen-person Board of Jurors, a process that requires multiple screening and viewing sessions and extensive deliberations to take approximately 1300 nominations and find the 30 winners and 30 finalists. The Board includes renowned journalists, media executives, critics, creators, and academics, including Communication Arts' own Professor Jonathan Gray, who has served on the Board for four years now.
Professor Gray is not the only person from the Department of Communication Arts affiliated with the Peabody Awards, however. In fact, there has been a growing contingent of Communication Arts and UW–Madison alumni involved with Peabody in recent years. First among them is Dr. Taylor Cole Miller, who received his PhD from the department in 2017 and was hired as the Academic Director of the Peabody Media Center in January. The Peabody Media Center is a scholarly research center and media production arm of the Peabody Awards which focuses on creating content that highlights the winners and finalists of the year. Dr. Miller is now working with the Peabody Digital Network and Peabody Archive, with the Media Center's Fellows, and with undergraduate students on the Futures of Media Award. Having received his doctorate in media and cultural studies, the Academic Director position is truly perfect for Dr. Miller.
Then there are the Peabody Award winners themselves. Jack Amiel, who majored in history at UW–Madison, won a 2014 Peabody for The Knick, for which he wrote and executive produced. The following year, Communication Arts alumnus Jill Soloway won a Peabody for their show Transparent. And now Communication Arts alumnus Ari Lubet joins their ranks for American Vandal, the true crime parody for which he executive produced.
"I had an unbridled passion for film and TV," Ari Lubet said of his college days. While studying in Communication Arts, Lubet was busy utilizing the department's media archive to watch old shows and films, and his Netflix DVDs subscription to watch new ones. He jokingly admits he consumed a likely unhealthy amount of film and television, but it was driven by his love of media and his uncertainty of how to become a part of it. Fortunately, he attended a talk by alumna and now producer Mary Rohlich (BA '03), who spoke about jobs in L.A. and how to find them. The practical information she shared resonated with Lubet and "contextualized the reality of [working in L.A]." The film industry was no longer a nebulous concept and place, so a day after graduating from UW–Madison in 2007 Lubet packed up an old car and drove to Los Angeles.
Lubet first started as an unpaid intern for Scott Rudin Productions before being hired at Creative Artists Agency. Fast forwarding to the present day, he now works for 3 Arts Entertainment as a literary manager and producer. In 2012 he connected with Tony Yacenda, who became his first client. They began putting together a pitch for American Vandal with Funny or Die and CBS Studios, and the show was eventually sold to Netflix and released in September 2017. About half a year later, Lubet was on stage at the Peabody Awards alongside Dan Perrault (co-creator) and Joe Farrell (executive producer, Funny or Die) as Yacenda accepted the Peabody Award for American Vandal.
"It's one of the highest honors that you can have," Lubet said in regards to the Peabody Award. We went from "Who drew the dicks?, to people saying wait who won a Peabody?" And he appreciates the humor in the fact that a parody show with a crude premise garnered such a prestigious prize, too. "We wanted to make something distinctly funny that celebrated our passion for true crime documentaries."
One quality that contributed to American Vandal's win, however, is its commitment to authenticity. And authenticity seems to shine through Ari Lubet and each of the Communication Arts and UW–Madison affiliates now linked to the Peabody Awards. Lubet is grateful for his education in the Comm Arts department and he draws upon it in his professional life. "It's a point of pride for me to come from the very place where David Bordwell paved the way for film theory. I hope I can give back to the school by speaking to the students and helping them as Mary did for me over a decade ago. I hope to stay connected to the school and the department in the years to come. Go Badgers!"
Pictured from left to right: Joe Farrell, Ari Lubet, Daniel Perrault, and Tony Yacenda on stage accepting a Peabody Award for the show American Vandal.