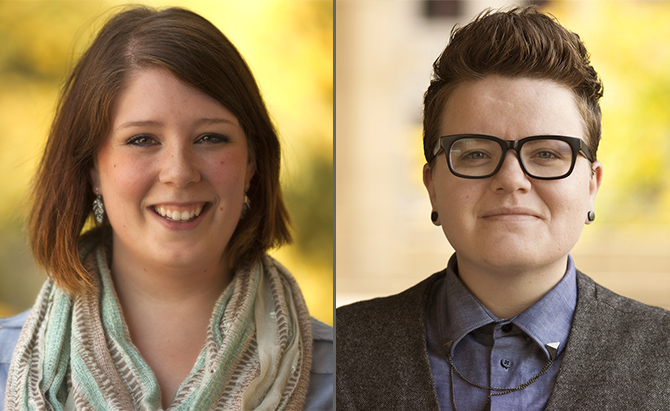 Last February, the Department of Communication Arts celebrated one of our teaching assistants for being the first in the department's history to receive a campus-wide TA award. Now, in the following year, we are extremely proud to announce that not one, but two more of our teaching assistants will be recipients of the 2017 Campus-Wide Teaching Assistant Awards. On February 20th, two graduate students in the Rhetoric, Politics, and Culture track of Communication Arts, Marissa Fernholz and Caelyn Randall, will receive the Innovation in Teaching Award and the Early Excellence in Teaching Award, respectively.
The Innovation in Teaching Award recognizes TAs who bring extraordinary creativity to their teaching and have developed or adapted teaching methods or techniques in new and innovative ways. For Marissa Fernholz, that involves turning the classroom into a more collaborative and interactive space for her students. The assignments she designs for her classes shift learning from the one-way form of communication of lectures to group-oriented work on case studies, analysis, and complex communication problems. Students leave her class with practical experience applicable to life outside the classroom.
"Marissa is one of our most promising researchers and writers in the program, and without a doubt one of our most innovative, student-centered, and committed teachers," said Associate Professor Sara McKinnon. "Within the first week or two of the semester students who are enrolled in Marissa's classes know they are embarking on an experience that will be a highlight of their time at UW-Madison."
In similar fashion, Caelyn Randall earned their award. The Early Excellence in Teaching Award recognizes outstanding and inspirational performance on the part of new TAs (those with fewer than four semesters of teaching experience). Like Fernholtz's emphasis on collaboration and community, Randall has made their mark by encouraging discussion and debate amongst their students, and by creating an environment of inclusivity. Where many instructors view disability accommodations as a requirement, Randall has made said accommodations an important part of their educational framework.
Associate Professor Jenell Johnson said, "One of the defining aspects of Caelyn's approach to pedagogy is their commitment to access and accommodation." She continued, "Caelyn is deeply committed to creating a welcoming, universally designed learning environment for all students. As someone thoroughly trained in disability studies and committed to disability, racial, and gender justice, Caelyn seeks to put those principles in practice in the classroom."
These remarks only scratch the surface of what makes Marissa Fernholz and Caelyn Randall remarkable section leaders, educators, and human beings. We congratulate both of them on these awards, which are incredibly well-deserved.
Pictured: TAs Marissa Fernholz and Caelyn Randall.