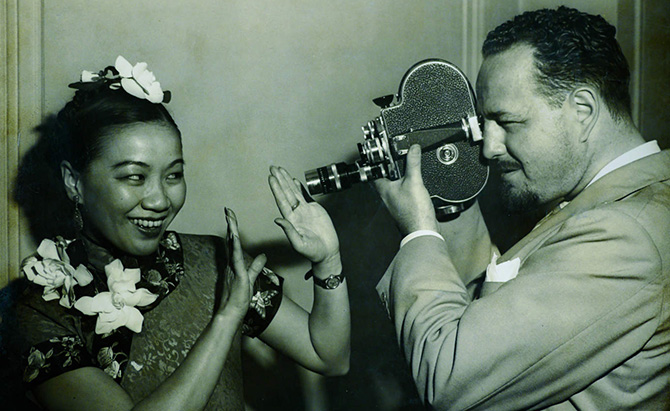 The weekend of October 13-15, students and Madison community members have the opportunity to see three brand new films at Madison's Asian American Media Spotlight.  This annual event, now in its third year as a standalone festival, offers the rare opportunity to screen and discuss films that are made by Asian Americans and focus on Asian American issues.
Programmer Lori Kido Lopez is an Associate Professor in Communication Arts who studies Asian American media.  She first started working on bringing Asian American films to Madison in 2013, with a series that was part of the Wisconsin Film Festival.  But through the support of the Asian American Studies Program, Cinematheque, the Anonymous Fund, and a number of different student organizations, she has worked to create an entire weekend of programming that highlights and celebrates Asian American media.
The event opens on Friday, Oct 13 at 7pm with a screening of FINDING KUKAN, a documentary by Robin Lung.  In it, Lung searches for the lost film KUKAN and the truth about the mysterious female figure, Li-Ling Ai, who may have been crucial to its production. As Lung finds out more about KUKAN, an Academy award winning documentary about World War II China from 1941, the significance of Li-Ling Ai's role slowly becomes clear. Lung discovers the inspirational, intriguing story of a woman who made a mark on film history in a time of enormous prejudice against her gender and race.
On Saturday Oct 14 at 7pm is the premiere of COLUMBUS, by director Kogonada and featuring John Cho.  Cho plays Jin, who visits Columbus Indiana to help his ill father and begins a friendship with recent high school graduate Casey (Haley Lu Richardson), who works at the local library. As they explore the striking modernist architecture that fills the small town, Jin and Casey face their complicated feelings for their families and each other. This beautifully shot, absorbing story is director Koganda's first feature.
Finally, on Sunday Oct 15 at 7pm the event closes with MIXED MATCH.  This eye-opening documentary focuses on mixed race blood cancer patients who must consider their multiracial identities as they struggle to find bone marrow donors because of their complex genetics. Combining personal stories from patients and experts in the field with animated segments that provide context about his discoveries, director Jeff Chiba Stearns explores the important topic of how mixed ancestry can impact medical care.  It will be accompanied by a bone marrow drive with the Mixed Student Union (MSU).
Full Schedule:
Friday Oct. 13, 7pm at Elvehjem L140FINDING KUKAN, Q&A with Director Robin Lung
Saturday Oct. 14, 7pm at Vilas 4070COLUMBUS
Sunday Oct. 15, 7pm at The Marquee, Union SouthMIXED MATCH, Q&A with Director Jeff Chiba Stearns