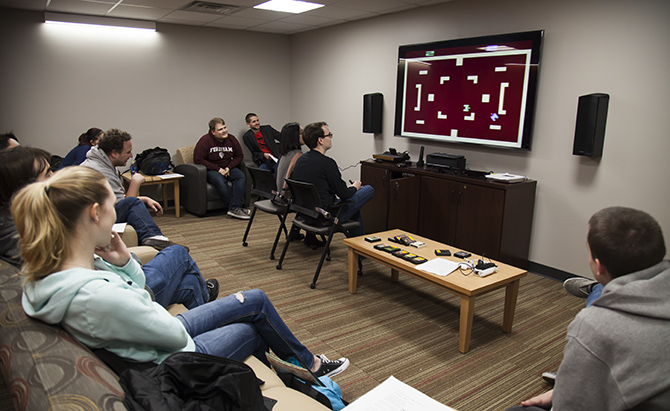 Last summer marked the beginning of a new construction project in Vilas Hall's Instructional Media Center (IMC). Over the course of several months, the brand new room known as the Living Room Lab took shape and was completed in November 2016.
The Living Room Lab occupies a space that used to be comprised of several small viewing rooms. In the rooms, Communication Arts students could catch up on missed class screenings or view additional course material for classes and research. However, with the increasing availability of media through streaming services, the usage of these rooms has steadily declined, so a better use of the space was devised. In the place of some of the viewing rooms, a single large room formed, complete with a large 4K television, Blu-Ray playback, video game consoles, internet connectivity, surround sound, dimmable lighting, and couches to simulate a more authentic home theater experience. With a true "living room" feel, the Living Room Lab modernizes the IMC space and allows Communication Arts faculty and students to study TV as it actually exists in many households today.
Comfortably seating eight to thirteen people, the Living Room Lab is perfect for advanced seminars in TV and Internet studies, as well as other Communication Arts disciplines. Media and Cultural Studies Professors Jonathan Gray and Derek Johnson are already utilizing the space for courses they teach, including Comm Arts 950: "Important" Media and Comm Arts 547: Digital Game Cultures. The highly unique room provides a space and experience otherwise unavailable in UW-Madison classrooms.
Communication Arts is thankful for the grant provided by UW-Madison's Instructional Laboratory Modernization Program, which made the Living Room Lab possible. The department is also thankful for the stewardship of its alumni and friends, whose gifts to the Chair's Discretionary Fund and Digital Studies Fund help maintain our great facilities.
Below, an image gallery presents various stages of the construction project.