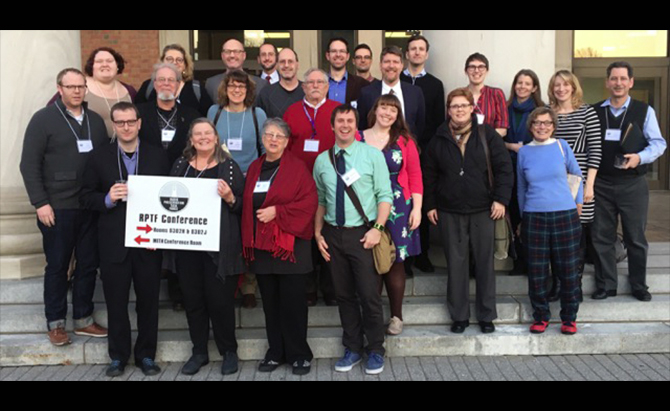 If one wanted to know what a couple of dozen people with ties to UW-Madison Communication Arts were doing February 26-27, they'd need look no further than the Radio Preservation Task Force Conference. The conference, hosted at the Library of Congress and the University of Maryland, was titled "Save America's Radio Heritage" and focused on the preservation of radio history. With around 300 in attendance, the conference was a strong first step in an ongoing endeavor.
In 2014, the Radio Preservation Task Force (RPTF) was formed, stemming from the Library of Congress's National Recording Preservation Plan. Its mission primarily focuses on identifying and saving broadcast selections, and creating a support system for researchers and archivists to collaborate, access, and study the cultural significance of radio. No simple task, but with two Comm Arts alumni at the helm, Christopher Sterling (PhD '69) and Josh Shepperd (PhD '13), backed by the expertise and enthusiasm of many UW-Madison associates (pictured) and the wider community, the RPTF is assuredly in good hands.
Pictured: front row, L-R: Josh Shepperd, Michele Hilmes, Mary Beth Haraolvich, Jeremy Morris Second row: Andrew Bottomley, Henry Sapoznik, Aniko Bodroghkozy, Larry Lichty, Dana Gerber-Margie, Mary Huelsbeck, Sandra Lichty Back row: Eleanor Patterson, Ruta Abolins, David Seubert, Shawn VanCour, Daniel Marcus, Eric Hoyt, Brian Fauteux, Bill Kirkpatrick, Christopher Cwynar, Kit Hughes, Kelly Cole, Jennifer Wang, David Giovannoni.