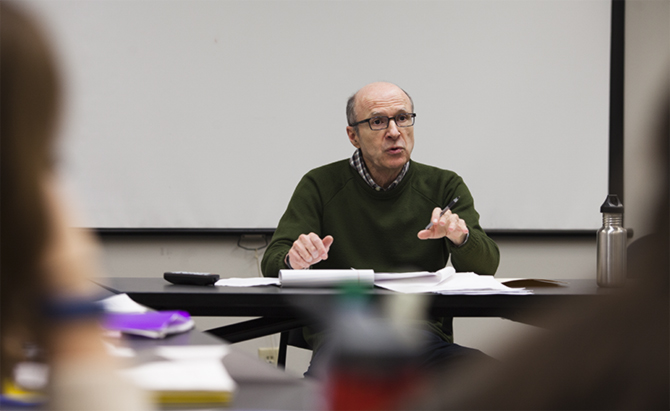 It is relatively rare for a named professorship to be bestowed upon a faculty member. It takes a full career of teaching, research, and substantial contributions to their field for a professor to receive such a title, and even with those qualifications it is not a guarantee. Until recently, Professor Emeritus David Bordwell and Professor Stephen Lucas were the only named professors in the Department of Communication Arts, with the titles Jacques Ledoux Professor of Film Studies and Evjue-Bascom Professor in the Humanities, respectively. Now, after teaching at UW-Madison since 1980, Professor JJ Murphy joins their ranks, having been named The Hamel Family Distinguished Chair in Communication Arts.
Praises from Professor Murphy's fellow film professors best illustrate his character and impact on the department and the field of film:
Professor Kelley Conway:
Murphy is unusually productive and protean. For the first half of his career, he taught film production and screenwriting and made films. He is still highly regarded internationally for his experimental films Print Generation (1974), Sky Blue Water Light Sign (1972), and many others. But in the 1990s, he moved into researching and writing, publishing two books that have had a big impact on our thinking about independent cinema: The Black Hole of the Camera: The Films of Andy Warhol (University of California Press, 2012) and Me and You and Memento and Fargo: How Independent Screenplays Work (Continuum Books, 2007). His third book will look at the shifting conceptions of the screenplay in American independent filmmaking from the 1950s to the present.

Murphy has also made a significant impact through his teaching. His seminars on screenwriting and advanced production are among the most oversubscribed courses in our department. Former student Jill Soloway (creator of the award-winning Amazon series Transparent) characterized Murphy as "inspirational."

He is a truly extraordinary teacher, filmmaker, scholar, and colleague.
Professor Vance Kepley:
JJ Murphy combines the best of two complementary domains. He is first of all a gifted artist, having made a lasting mark as one of the nation's leading independent, avant-garde filmmakers. And he is also a brilliant researcher and writer of cutting edge scholarship on cinema. His artistic experience clearly makes him a more acute and perceptive scholar. He brings the two skill sets seamlessly together in his teaching, where he stresses creative skills in such courses as screenwriting, and humanistic scholarship in film studies courses such as his survey of American independent film. Little wonder that he is also an award winning teacher. He has shared with generations of appreciative students the special benefit of his rich experience.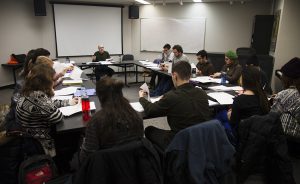 Professor Emeritus David Bordwell:
In the forty-five years I've known JJ Murphy (yes, we are old), I've found him to be a warm, good-humored, greatly gifted filmmaker, researcher, and educator. He made some of the most important avant-garde films of the 1970s and 1980s, and he wrote two of the landmark books on cinema of recent years. The second, his comprehensive study of Andy Warhol's career, has already become known as the best book on Warhol's films. After many achievements and awards, JJ's Hamel Family Distinguished Chair comes as a fitting recognition of his contributions to his field and his university.
Communication Arts thanks Professor Murphy for his tremendous contributions and congratulates him on this great honor!