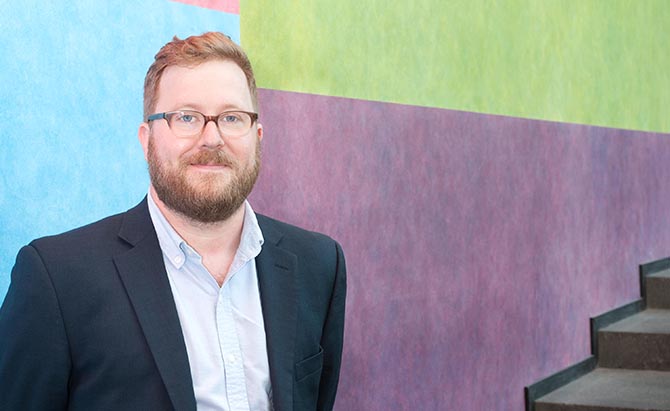 In October, former UW Communication Arts Ph.D. candidate Eric Crosby began work as the Richard Armstrong Curator of Modern and Contemporary Art at Carnegie Museum of Art (CMOA) in Pittsburgh.
After studying the history of avant-garde film and video as a doctoral candidate at UW-Madison, Crosby began work at the Walker Art Center in Minneapolis, Minnesota in 2009, where he became Associate Curator of Visual Arts in 2014. Now, as the Curator at CMOA, Crosby will acquire, install, and interpret art from 1945 to the present in the museum's prominent collection.
Director of CMOA Lynn Zelevansky said, "We've long felt the need to have continuity in the modern and contemporary program. Eric, with his strong background in all aspects of art after World War II, is the ideal candidate to provide this. We are particularly excited about his background in film and video, an area where Carnegie Museum of Art has a fascinating history. Eric's past work with digital publishing platforms is also especially well-suited to initiatives at CMOA."
"I'm honored to take on this role," Crosby said. "For well over a century, the Carnegie has defined the horizon of contemporary art as we know it by advancing the ideas and endeavors of living artists. Framing that esteemed history and shaping its future will be at the core of my work here."
The Department of Communication Arts congratulates Eric Crosby on receiving this prestigious role in the art community.
Photo of Eric Crosby by Bryan Conley.