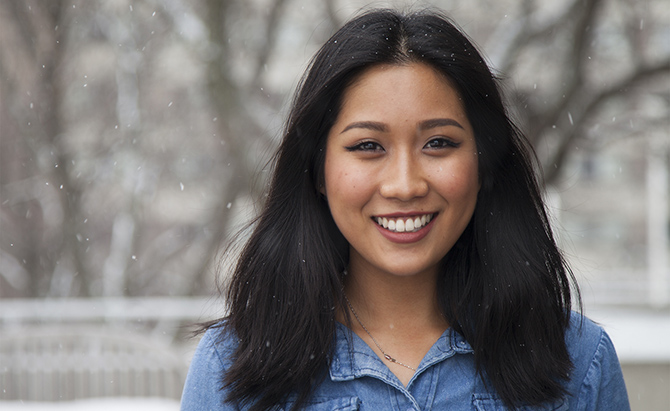 Liminal Creatures 
Senior Communication Arts major Jill Fukumoto sat down with me this week to talk about her art show entitled Liminal Creatures that we have been working on together this year. The multi-media show uses poetry, sketches, and video work to explore themes of home, family, migration, and foreignness. Moving between Hawaii and Madison, Wisconsin, Fukumoto uses intimate visual and verbal portraits and synesthetic sensory imagery to transport audiences into the liminality of home, culture, and humanness.
The art show will be shown at the UW-Madison Education Building (1000 Bascom Mall) from March 6-27, 2015. It is a part of the Line Breaks Festival, which is presented by UW-Madison's Division of Diversity, Equity & Achievement and produced by the Office of Multicultural Arts Initiatives (OMAI).
Copies of Fukumoto's poetry book will be available at the show.
*******
What was the inspiration for Liminal Creatures?
About seven months ago I started really reflecting upon the impact that my grandmothers have had on me. I had to deal with a lot of pain and grief when they passed away. I felt like the only thing I could do was write about them in order to remember. It became this whole therapeutic project! But more than that, after I thought about it, I felt really compelled to record their lives. I have such a fear of forgetting things, forgetting people. I do it all the time! It made me scared when they passed away because I thought I wouldn't remember some of the things they would do, especially the sound of their voices and what they look like. This made me think of the different senses I associate with them, which shaped the mediums I chose for this project. I wanted the audience to visualize and hear them in the videos, to emotionally feel them in the sketches, and the words, the poetry. Well, that is what most grounds me artistically.
How did you come up with the title Liminal Creatures and what does it mean?
I actually read this one article that you shared with me during our independent study last semester and it was just so beautiful. I had never read an academic piece that so distinctly described how I felt about having ties in Hawaii but building home in a completely different place like Madison. And that internal battle—"Which one is more familiar to me?" "Which one is mine?" "Do I have to choose?"—I don't think I've answered those questions yet, but the project explores them as in-between spaces, thresholds. The word liminal stuck in my mind, like for months. And "creature"? The word itself is just so alien. It conveys foreignness, and a lot of my project is about foreignness. But creatures are also common amongst us and my poetry is a lot about the common things that make memory. When I said it the first time the title just stuck.
As an artist, what does it mean to be a Comm Arts major? What is the connection between your art and your studies?
I really like Comm Arts because it gives me a more fundamental understanding of how to create things, even how to conceive of an idea before creating, and then to most effectively send the message I want to. It's funny, though, because most of my art is not at all technologically innovative like the things I learn in classes. Even my film for this show is so old school! I mean, my primary materials are home videos from the early 1990s with all the static and fuzz. I often deliberately stay away from machines when I create in order to capture the feeling and sensory experiences that make the most sense to me.
My art is comprised of reproductions of short bursts of memory—tastes, smells—that together tell a story, but may not make sense separately. Working across various mediums—poetry, video, drawing—allows me to capture those bursts. It helps when I am able to work on separate pieces because I get to think about using symbols to remember the memory burst, to sense and feel it, in new ways that still stay faithful to the memory. When I am sketching, for example, I'm not thinking about what lines would look good, or what position the body should be sketched in. My initial thought when I start a sketch is "what is this girl going to feel like?" and "what is she going to look like when she's feeling this?" When I write about food I'm often thinking in the back of my head, "what does that sound like?" or "how can a taste sound like something?" All of our senses are connected. Art helps us feel and communicate those connections.
*******
Read Fukumoto's poem Just Dinner to get a taste of her work.