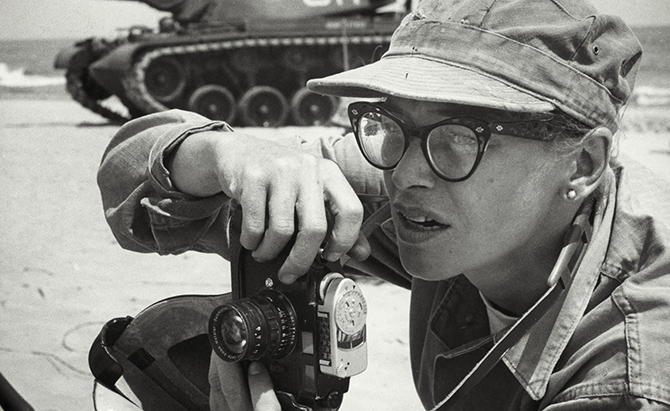 Last year, Milwaukee freelance journalist Martin Hintz contacted the Department of Communication Arts for research assistance. A prolific author, Hintz plans to write a biography on the pioneering war photojournalist Dickey Chapelle. The nearby Wisconsin Historical Society hosts the Dickey Chapelle archive, so he sought out Communication Arts and its graduate students.
Casey Long and Nora Stone, in their third and fourth years, respectively, are graduate students studying film in the Communication Arts program. As media scholars with archival research experience, they were a perfect fit for the project. Starting in the summer of 2014, Casey Long began the research by heading over to the Wisconsin Historical Society, where she poured over the Chapelle archive, searching the myriad photographs, letters, and documents for names of people who may have known Chapelle. Leads eventually led to old acquaintances and networks of Vietnam veterans and war correspondents, who supplied her with even more contacts. In the months that followed, Long and Stone have conducted many phone interviews, learning about the life story of Dickey Chapelle and the type of woman she was.
Dickey Chapelle was born Georgette Louise Meyer in 1919 and grew up in Shorewood, Wisconsin, a suburb of Milwaukee. Early in life, she quickly became interested in airplanes and would often visit airfields to watch the pilots and their machines. She subsequently became interested in aeronautical engineering and got into MIT at a very young age. Years later she met her husband Tony Chapelle, who stoked her already budding interest in photography. As her skills as a photographer grew, so did her attachment to the military, particularly the Marines, and she began doing a lot of Marines-oriented journalism. She was then hired by National Geographic and went to the battles of Iwo Jima and Okinawa with the Marines during WWII. After the war, she travelled to Europe and in 1956 was captured by the Hungarian police, who placed her in an internment camp for several weeks. She endured horrible conditions and starvation before she was freed. Despite the hardship, she continued to cover conflicts and once again travelled with the Marines, this time to Vietnam, during the early stages of the Vietnam War. While on a mission in 1965, a soldier in front of Chapelle activated a boobytrap, killing them both. She was the first female journalist killed in Vietnam, and the first American female journalist killed in any war.
Based on Chapelle's penchant for photographing turmoil and combat zones, one might think she was a thrill seeker. Whether or not Chapelle was a thrill seeker became the number one question in Long's interviews, but the answer was always no. When the question was broached to the then head editor of National Geographic, he said, "No, but she knew that's where the story was, and so she would just go after the story."
Dickey Chapelle distinguished herself from the rest of her peers by going on a lot of dangerous missions in the Vietnam War. A veteran said to Long, "No reporters were coming with us, and the one's that did come with us, we hated half of them, and then there was Dickey." Chapelle took risks and made an impact on the soldiers around her. Long indicated, "The whole thing about her was the Marines liked her, and she was very well-known among them because she wrote positive stories about them." Chapelle wore Marines fatigues most of the time, which brought her closer to the infantrymen even in appearance. Anytime she returned home, she would be in full uniform instead of the typical skirts and dresses worn by women at the time, one neighbor recalled.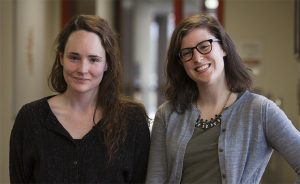 Of Chapelle's eccentricities, Nora Stone found her age particularly interesting. At the end of her life, Dickey Chapelle was forty-six years old, twice the age of the average American soldier in the Vietnam War. Compared to the soldiers, she was an adult, and would give advice to both them and younger reporters. Stone was fascinated by the fact that as Chapelle reached middle-age, she was still pursuing her craft, marching with Marines, and going out on long missions. People Long interviewed said Chapelle was very into fitness, so much so that on at least one occasion as a house guest, she used the hosts' old picket fence to do personal exercises. Such behavior was very unusual for a woman at the time. It seems clear Chapelle was driven to stay fit and continue to chase difficult stories for as long as possible.
Dickey Chapelle is an inspirational, intriguing, and important woman in the history of photography, and Long and Stone's research has definitely been fruitful. While a book about Chapelle already exists, Martin Hintz hopes to use this research to help complete a biography that more honestly represents her. Beyond providing information to Hintz, Long and Stone donated all of the interview audio files and transcriptions to the Chapelle archive in the Wisconsin Historical Society. As their research comes to an end, everyone else will have to wait to learn more about Dickey Chapelle.
Pictured above: Dickey Chapelle. Photo courtesy of the Wisconsin Historical Society.