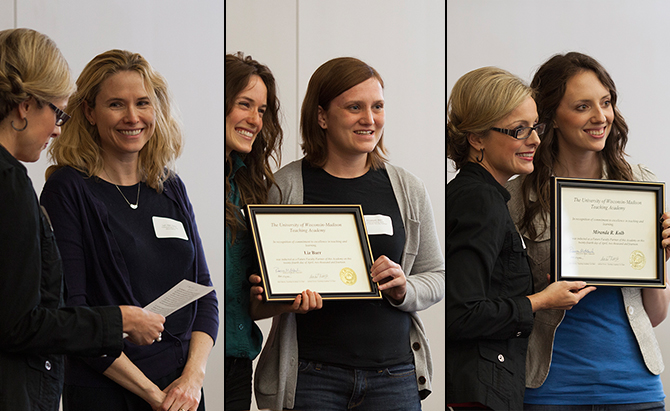 Not one, not two, but three Communication Arts instructors have been inducted into the University of Wisconsin Teaching Academy.
The induction ceremony was held in the Education Building's Wisconsin Idea Room Thursday evening, April 24th. Professor Lyn Van Swol was inducted as a Teaching Academy Fellow, and teaching assistants Liz Barr and Miranda Kolb were inducted as Teaching Academy Future Faculty Partners (FFPs).
The UW Teaching Academy (TA) was created in 1993 with the goal to "promote effective teaching and learning on this campus and nationally by encouraging innovation, experimentation, and dialogue among faculty, instructional staff, and teachers of the future." As members of the TA, the aforementioned instructors will work individually to fulfill the Academy's mission, and also collaborate with the ever-growing network of Fellows and FFPs to evolve and improve teaching practices at UW and abroad.
Not only is this great recognition for the wonderful work these individuals have been doing already, it is also a precursor to their future success as instructors.
On behalf of the Department of Communication Arts, we thank Prof. Van Swol, Ms. Barr, and Ms. Kolb for the time and care they put into teaching. Congratulations!
Pictured from left to right: Lyn Van Swol, Liz Barr, Miranda Kolb.