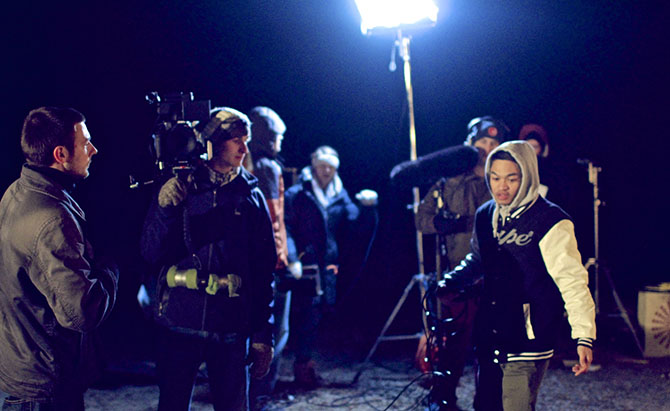 At the end of each semester, the hard work of the Communication Arts media production students culminates in the Communication Arts Showcase, in which the best work from the semester is shown on the big screen.
Two films from the capstone production course, CA 659, will be shown this semester, along with works from the introductory courses. Scripts written in CA 466 – Writing for Television and Film by UW alumni Kai Carlson-Wee and Brock Kircher were produced into thirty-minute films in CA 659.
CA 659, taught by Professor J.J. Murphy, uses state of the art video equipment, made possible by a recent Madison Initiative for Undergraduates grant awarded to the department. Undergraduates in the advanced motion picture course are now able to produce high quality films, suitable for theater presentation and submission to film festivals around the country.
The two small groups in CA 659 were led by directors Kaitlyn Boss and Aaron Martinenko (frame left). When asked about the filmmaking process, Martinenko said "the camaraderie that develops amongst the members of the cast and crew is perhaps the most rewarding [experience]." He stands by the advice stressed in the production courses, which is to "learn by doing." He recommends anyone interested in film should "just get out there and record something… you can only get better at knowing what works and what doesn't if you make mistakes and learn from them."
For the chance to see Boss's, Martinenko's, and other students' great work, don't miss the showcase! The program is brought to you by the Department of Communication Arts and UW Cinematheque. Held at the Cinematheque (4070 Vilas Hall) at 7:00p.m. on Saturday, May 11th, the screening is free and open to the public.
Photo credit: Logan Covelli.