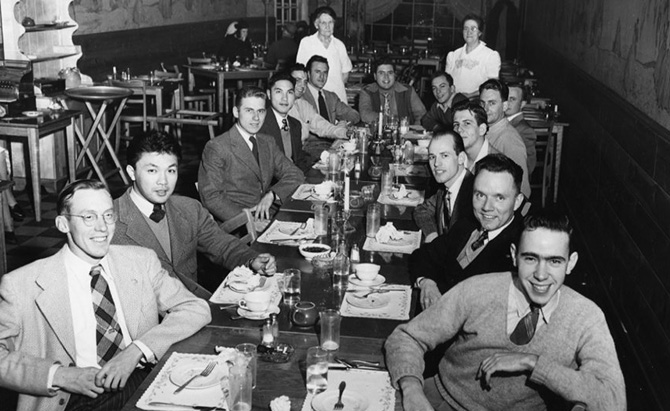 "The PhB was a godsend for me," says Loring Mandel (class of '49).  "It enabled me to put together a program of courses that kept me happy and active… I loved my time at UW."
The Communication Arts Department has produced many successful graduates over the years, but perhaps none so diversely talented as Loring Mandel. With a career that spans radio, film and television, from the 1950s to the 2000s, Mandel left his mark on Madison and on Hollywood. His works include the television film Conspiracy (2001), starring Kenneth Branagh and Stanley Tucci, and Robert Altman's 1967 film Countdown starring James Caan. He is the recipient of a Sylvania award, two Peabody awards, several Writer's Guild of America awards, and has been nominated for an Emmy an impressive five times, winning twice. In 2004, Mr. Mandel received the Paddy Chayefsky Lifetime Achievement Award at the 56th Annual Writers Guild of America Awards.
But where did Mr. Mandel's career begin? Right here at UW-Madison, as he recently recounted in our call for updates from alumni. "I was interested in Drama, which was not then a department: I was involved in 11 productions—in one capacity or another—in my freshman year… I've had a long and rewarding career as a writer for radio, television and film."
"But my first production was an original drama called "Red Snow" in 1948 on WHA. I don't believe WHA had ever produced a student drama production prior to mine. I still have a tape of it somewhere. It featured Gerald Hiken and Cliff Owen. With an original music score."
Mr. Mandel's papers, a collection of scripts, articles and correspondence assembled throughout his career, can be found in the Wisconsin Center for Film and Theater Research in the Wisconsin Historical Society.
Pictured: Loring Mandel (at far end on right) with fellow boarders and landladies on North Lake Street in Madison, circa 1946.