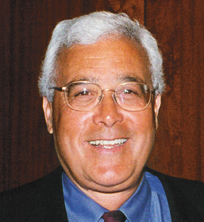 Comm Arts Professor Emeritus Tino Balio has been named a 2012 Wisconsin Academy Fellow, the highest level of recognition conferred by the Wisconsin Academy of Sciences, Arts & Letters. He is being inducted as a 2012 Fellow alongside author Jerry Apps, journalist Jean Feraca, medical doctor Cynthia Haq, plant geneticist Molly Jahn, music conductor Jim Latimer, and science communications scholar Dietram Scheufele. More about Professor Balio and the Wisconsin Academy's decision to award him with this prestigious distinction can be found here.
The independent, nonprofit Wisconsin Academy applies the sciences, arts, and letters to bring context, civilized discussion, and meaningful action to the most important issues and ideas of today. Drawn from a pool of statewide nominees, Fellows are elected for their extraordinary levels of accomplishment in their fields, as well as a lifelong commitment to intellectual discourse and public service. Fellows are distinguished individuals from a wide range of disciplines that help the Wisconsin Academy shape its programs and projects. To be considered, one must have or have had a meaningful relationship with the state of Wisconsin and be highly esteemed for qualities of judgment, perceptiveness, and breadth of knowledge of how literature, art, and science contribute to the culture and welfare of the state. Those elected will also have a career marked by an unusually high order of discovery; technological accomplishments; creative productivity in literature, poetry, or the fine or practical arts; historical analysis; legal or judicial interpretation; philosophical thinking; or public service. The total number of Fellows is limited to 100.
Congratulations to Professor Balio on this much-deserved honor!