In Madison to present their newest films at the 13th AnnualWisconsin Film Festival, independent film directors Brett Haley and Alex Ross Perry spoke to Communication Arts students about their experiences in writing, producing, and directing independent films.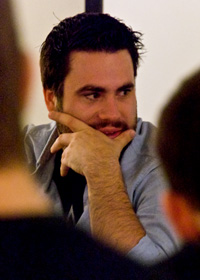 Conversing with undergraduate students in Faculty Associate Erik Gunneson's Comm Arts 467: Cinematography & Sound Recording and Comm Arts 659: Advanced Motion Picture Production Workshop classes, Brett Haley (at left) explained his unique approach in the production of The New Year, which was filmed on an extremely small budget of around $8,000 in his hometown of Pensecola, FL. He cast many friends and family in the production, and shot over-the-shoulder dialog scenes with two cameras running simultaneously in order to focus more acutely on bothcharacters' performances in a scene. Haley advocated this approach to students for its versitility, as opposed to close-ups of each character which added pressure to some actors on set with limited training.
"Your first job as a director is to cast right. Make sure the person can handle the material, and write for that person. You shouldn't have to say something to them in between takes. If you do, you probably didn't cast correctly."
–Brett Haley, The New Year director
Similarly, in addressing students regarding his black & white 16mm film The Color Wheel, writer, producer, actor, and director Alex Ross Perry (at right) stressed the importance of following your own path in filmmaking. While studying film at New York University's Tisch School of the Arts, he found that the methods and appreaches his peers were using to write, fund, and produce their student films were not working for him. Furthermore, Perry responded to a question from a student regarding how to find locations, actors, and equipment for a low-budget film by emphasizing taking advantage of existing personal and professional relationships.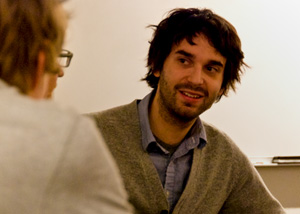 "Everyone has access to something. No one has access to nothing. So ask people you know for help without demanding it."
— Alex Ross Perry, The Color Wheel director
Now in its 13th year, the Wisconsin Film Festival began in 1999, and has grown into the largest campus-based film festival in the United States, averaging 200 films and 34,000 attendees each spring. It is a project of the University of Wisconsin–Madison Arts Institute, with the assistance of the Department of Communication Arts and dozens of other campus and community partners.