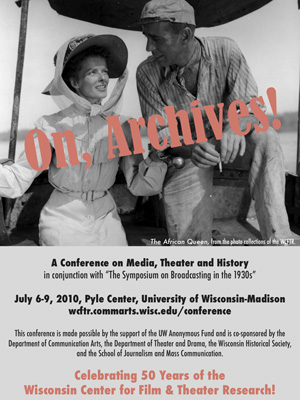 A conference celebrating the 50th anniversary of the Wisconsin Center for Film and Theater Research, On, Archives!, in conjunction with a Symposium on Broadcasting in the 1930s, took place July 6 to 9, 2010.
Four days of keynote addresses and panels on media history and archiving went smoothly and a highly productive time was had by all. About 100 presentations were made, with over 150 in attendance. Besides the US and Canada, participants hailed from England, Wales, Scotland, Belgium, the Netherlands, Germany, France, Portugal, and Switzerland. Attendees agreed that it was highly gratifying to attend a conference at which history occupied the center stage.
Keynote speakers Tino Balio, Marc Vernet, Kate Lacey, and Matthew Bernstein each provided a perspective on media history and its archival connections that enlightened and stimulated the conference discussions. Many participants visited the archives, and some stayed on to do research. In association with the Cinematheque, the conference showcased restorations of films such as Emile de Antonio's Point of Order!, John Huston'sThe African Queen, and numerous newly preserved WWII homefront and silent rare short films.
A sincere thanks to all the participants for helping to celebrate this memorable occasion.