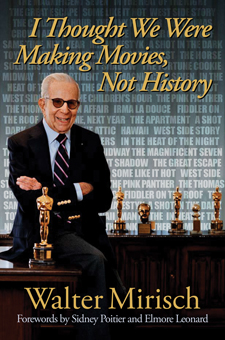 Walter Mirisch's (History, '42) autobiography, I Thought We Were Making Movies, Not History, provides a unique insider's view of the film industry though the life and experiences of an industry giant whose name is synonymous with numberous film classics, including three that won the Acdemy Award for best picture — The Apartment (1960), West Side Story (1961), and In the Heat of the Night (1967). Other films include The Magnificent Seven, Fiddler on the Roof, Some Like It Hot, The Apartment, and The Pink Panther.
Mirisch's work has led to 87 Academy Award nominations and 28 Oscars. Illustrated with rare photographs from his personal collection, I Thought We Were Making Movies, Not Historyreveals his own experience of Hollywood in its golden days and tells the stories of the stars — emerging and established — who appeared in his films, including Natalie Wood, John Wayne, Peter Sellers, Jack Lemmon, Shirley MacLaine, Sidney Poitier, Steve McQueen, Marilyn Monroe, and many others.
Mirisch has also received many of the film industry's highest honors. He served three terms as president of the Producers Guild of America and four terms as president of the Academy of Motion Picture Arts and Sciences.