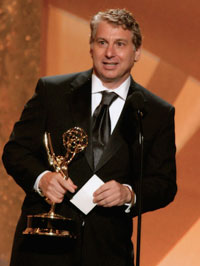 Congratulations to Stuart Bass (Comm Arts, '78), an accomplished freelance film editor for his outstanding accomplishment in the field of television editing. Bass won a Primetime Emmy Award from the Academy of Television Arts & Sciences at the 60th Primetime Emmy Awards in Los Angeles on September 21st, 2008. He was awarded for Outstanding Editing of a Comedy Series for the ABC comedy Pushing Daisies. In his acceptance speech, Stuart said:
"I would like to thank Professor David Bordwell for inspiring me to pursue a career in show biz"
Bass has been a member of American Cinema Editors since 1995 and has worked as a freelance editor in Hollywood for the last two decades. He works mostly with the major studios in Hollywood, and has also been Emmy nominated for editing in shows such asArrested Development (2003), But…Seriously (1994), and The Wonder Years (1988).
Congratulations again to Stuart for his exceptional achievement!