Zachary Zahos
Film
Teaching Assistant
he/him/his
608-265-7525
2150 Vilas Hall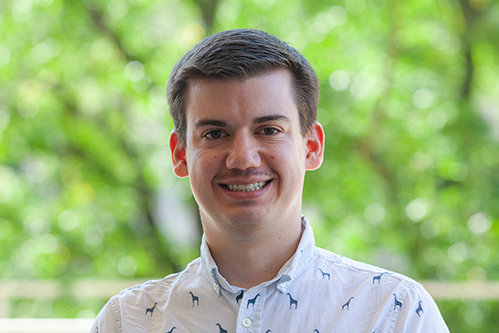 My research focuses on the forms and circulations of global art cinema, classical Hollywood cinema, and experimental film and video. I am currently writing a dissertation that explores the contemporary history (ca. 1980-2020) of "art house" film distribution in the United States, telling the story of how small distributors have remained independent, solvent, and essential to film culture against an industrial backdrop of media conglomeration. I am most interested in how these small companies have innovated in the releasing of specialty cinema (e.g., international, repertory, documentary, indie films) via novel approaches to theatrical, home video, and streaming, and how these strategies have impacted larger discourses around authorship, identity, and independence.
Education
M.A. Communication Arts, University of Wisconsin-Madison, 2018
B.A. English/Performing & Media Arts, Cornell University, 2015
Courses Taught
CA 313 — Documentary on the Edge: Between Fact and Fiction
CA 350 — Introduction to Film
CA 355 — Introduction to Media Production
CA 467 — Cinematography and Sound Recording
Selected Publications
Zahos, Z. "Two Friends: Circumstances of a Historic Feminist Collaboration." ReFocus: The Films of Jane Campion. Edinburgh: EUP, 2023.
Conferences
"Evergreens vs. Discoveries: Mapping the Contemporary Market for Older Films," Society for Cinema and Media Studies, Denver, April 2023.
"Internet Memes and the Vernacular Avant-Garde: A 'Steamed Hams' Case Study," University of Chicago Department of Cinema and Media Studies Graduate Student Conference, Virtual, April 2022.
"The Power and Pragmatics of Licensing Coalitions: The Criterion Channel, OVID, and Other Art House Streaming Platforms," Society for Cinema and Media Studies, Virtual, April 2022.
"Before the Boom: Early Zooms from 1927-1935 and Their Stylistic Legacy," Film & History Conference, Madison, November 2019.
"Memed Hams: YouTube Appropriations of The Simpsons and the Vernacular Avant-Garde," Society for Cinema and Media Studies, Seattle, March 2019.
Professional Experience
Submissions Editor, The Velvet Light Trap, 2020-2021.
Project Assistant, UW-Cinematheque and Wisconsin Film Festival, 2018-2020.
DVD/Blu-ray Producer, Milestone Film & Video, 2017-2019.
Honors/Awards
Weaver Excellence Award, 2022
Graduate School Fellowship, Spring 2022
Robert J. Wickhem Award in Media Production, 2021
Helen K. Herman Memorial Fund Scholarship, 2020
Charles Chester Pearce Scholarship in Film, 2019
Memberships/Affiliations
Society for Cinema and Media Studies, 2018 to Present.
Missing Movies, Advisory Board, 2023 to Present.