Jenell Johnson
Rhetoric, Politics, and Culture
Associate Professor
608-262-4921
6037 Vilas Hall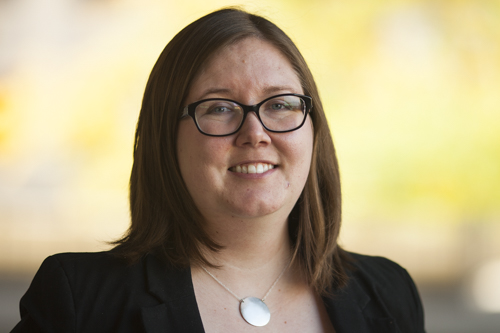 Office Hours:
Expertise and Activities
My research interests include the rhetoric of health and medicine, science and technology studies, disability studies, bioethics, and environmental communication. My research focuses on the circulation of scientific and medical information in the public sphere, with an emphasis on the social and political dimensions of nonexpert engagement with science, medicine, and technology. Much of my work looks closely at the meaning of neuroscience, psychiatry, and mental disability in scientific and cultural contexts. These interests are best illustrated by my book American Lobotomy, which explores how representations of psychosurgery shaped the rise, fall, and return of lobotomy in US medicine, and the co-edited collection The Neuroscientific Turn, a collection of essays from humanists and scientists reflecting on the growth of the neuro-disciplines. More recently, my research has shifted focus from the brain to the ethics and politics of life. I am currently working on a book about the ethics of life beyond the discipline of bioethics, and recently co-edited a collection on the theory and practice of biocitizenship.
In addition to my position in Communication Arts, I am affiliated faculty in Life Sciences Communication, Gender and Women's Studies, and the Holtz Center for Science & Technology Studies, and serve on the steering committees of the Health and Humanities certificate and the Disability Studies Initiative. I am also one of the inaugural Mellon-Morgridge Professors in the Constellations program, a transdisciplinary initiative for undergraduates at UW-Madison.
Education
Ph.D. The Pennsylvania State University, 2008
M.A. University of Illinois, Urbana-Champaign, 2002
B.A. University of Minnesota, Twin Cities, 1999
Honors/Awards
2019. Institute for Research in the Humanities Residential Fellowship, University of Wisconsin-Madison.
Mellon-Morgridge Professor of the Humanities, 2017
Public Outreach Fellowship, Holtz Center for Science & Technology Studies, 2016
Research-Service Award, University of Wisconsin-Madison, 2014
Top Papers, Peace and Conflict Division, National Communication Association, 2014
Books
2020. The Rhetoric of Health and Medicine As/Is: Theories and Approaches for the Field (co-edited with Lisa Meloncon, S. Scott Graham, John A. Lynch, and Cynthia Ryan). Columbus, OH: OSU Press.
2018. Graphic Reproduction: A Comics Anthology. University Park, PA: Penn State University Press.
2018. Biocitizenship: Lively Subjects, Embodied Action, and Posthuman Politics (co-edited with Kelly Happe and Marina Levina). New York: NYU Press.
2014. American Lobotomy: A Rhetorical History. Ann Arbor, MI: University of Michigan Press.
2012. The Neuroscientific Turn: Trandisciplinarity in the Age of the Brain (co-edited with Melissa Littlefield). Ann Arbor: University of Michigan Press.
Selected Articles
2020."The End of the World, The Future of the Earth: Bioplurality and the Politics of Human Extinction." Journal of the History of Rhetoric 23, no. 1: forthcoming.
2019. "Building Better Bridges: Toward a Transdisciplinary Science Communication." With Michael Xenos. Technical Communication Quarterly 28, no. 2 (2019): 112-123.
2016. "'A Man's Mouth Is His Castle': The Midcentury Fluoridation Controversy and the Visceral Public." Quarterly Journal of Speech, 102.1 (1-20).
2016. "Bioethics as a Way of Life: The Radical Bioethos of Van Rennselaer Potter." Literature & Medicine, (34.1) 7-24.
2015. "The Limits of Persuasion: Rhetoric and Resistance in the Last Battle of the Korean War." Quarterly Journal of Speech, (100.3) 1-25.
2013. "Negotiating Autism in an Epidemic of Discourse (Review Essay)." Disability Studies Quarterly, http://dsq-sds.org/article/view/3716/3236.
2012. "Disability, Animals, and the Rhetorical Boundaries of Personhood." JAC, (32.1-2): 372-382.
2011. "Thinking with the Thalamus: Lobotomy and the Rhetoric of Emotional Impairment." Journal of Literary and Cultural Disability Studies, (5.2): 187-200.
2010. "The Skeleton on the Couch: The Eagleton Affair, Rhetorical Disability, and the Stigma of Mental Illness (reprinted in Neurorhetorics, forthcoming from Routledge)." Rhetoric Society Quarterly, (40.5): 459-478.
2009. "A Dark History: Memories of Lobotomy in the New Era of Psychosurgery." Medicine Studies, (1.4): 367-378.
Selected Book Chapters
2014. "The Golden Voice of Neuroscience: Fact Finding in Popular Buddhist Magazines." Neuroscience and Media: New Understandings and Representations, Michael Grabowski, ed. New York: Routledge.
2014. "Symmetry." The Object of Rhetoric: Assembling and Disassembling Bruno Latour, Nathaniel Rivers and Paul Lynch, eds. Carbondale, IL: Southern Illinois University Press (with James J. Brown, Jr.).
2012. "Theorizing the Neuroscientific Turn: Critical Perspectives on a Translational Discipline." The Neuroscientific Turn: Transdisciplinarity in the Age of the Brain, Melissa Littlefield and Jenell Johnson Ann Arbor: University of Michigan Press (with Melissa Littlefield), 1-30.
2011. "Lost and Found in Translation: Popular Neuroscience in the Emerging Neurodisciplines." Advances in Medical Sociology, Martyn Pickersgill and Ira Van Keulen London: Emerald Insight (with Melissa Littlefield), In Press.
Selected Lectures/Keynotes
2019. "A Dark History: Memories of Lobotomy in the New Age of Psychosurgery," Richardson Seminar, Cornell University, Weill Cornell Medical College, New York City.
2018. "Not Your Father's Lobotomy." Montgomery Lecture, Co-sponsored by the Center for Bioethics and Medical Humanities and Institute for Public Health and Medicine, Feinberg School of Medicine, Northwestern University. March 22, 2018.
2014. "A Political History of the Brain," Network for Neuro-Cultures Conference keynote, University of Illinois at Urbana-Champaign, February 22, 2014.
2013. "Thinking with the Thalamus: Lobotomy and the Rhetoric of Emotional Impairment," University of Copenhagen, Medical Museion, March 11, 2013.
Courses
CA 262 – Theory and Practice of Argumentation and Debate
CA 310 – Rhetoric and Climate Change
CA 310 – Environmental Rhetoric
CA 317 – Rhetoric and Health
CA 472 – Rhetoric and Technology
CA 570 – Classical Rhetorical Theory
CA 610 – Limits of the Human: The Rhetoric and Politics of Human Definition
CA 610 – Introduction to Disability Studies
CA 969 – Rhetorical Historiography (grad seminar)
CA 966 – Rhetoric and the Body (grad seminar)
For more on my books: