Derek Johnson
Media and Cultural Studies
Department Chair, Professor
608-262-8788
6110 Vilas Hall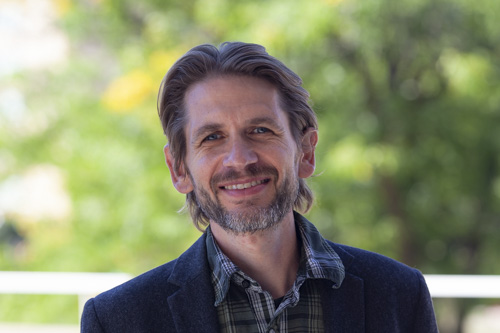 Office Hours:
Current and Future Projects
Examining the strategies used in the media industries to manage the mortality of labor and consumers
Explaining why the temporal logics of media franchising make it a recurring battleground in struggles for (and just as often, against) social justice
Expertise and Activities
My research examines the media industries, looking specifically at how production operates as a site of cultural and creative struggle, particularly as the stakes of those struggles relate to the idea of the future and the reproduction of content, markets, and authority over time. This work frequently looks across television, contemporary film, digital games, comics, and merchandising (with particular attention recently to the retail contexts in which these media circulate). I embrace "critical media industry studies" and "production culture" approaches that understands industry not just in economic terms, but also through the agency, identities, meanings, values, and communities that emerge in and around media work. My newest completed long-term project considers the "transgenerational" strategies whereby media industries encourage producers and consumers to move across the boundaries of childhood and adulthood, constructing idealized professional and amateur subjects that can help mature industries to negotiate changing markets, technologies, and consumer practices. In my previous book, I examined "media franchising", where licensing, spin-offs, and global formatting practices create uneasy creative relations and negotiations of unequal power among producers from multiple spaces and historical contexts of production. My current research returns to these topics in order to explore how this form of cultural reproduction supports a future-oriented politics of industrial intervention and social justice activism. I have also worked to situate the identity work of media industries, entrepreneurs, and brands in relation to post-feminist and post-racial ideologies.
Education
Ph.D. University of Wisconsin-Madison, 2009
M.A. University of Wisconsin-Madison, 2006
B.A. University of Southern California, 2001
Honors/Awards
H.I. Romnes Faculty Fellowship, University of Wisconsin-Madison, 2019
Outstanding Young Scholar Award, International Communication Association – Popular Communication Division, 2015
Faculty Fellow, Academy of Television Arts & Sciences, 2011
Junior Faculty Summer Research Fellowship, University of North Texas, 2010
Research Initiation Grant, University of North Texas, 2009
University Dissertation Fellowship, University of Wisconsin-Madison, 2008
Articles
2018. "The Reluctant Retailer: Amazon Studios and the Non-Merchandising of Children's Television." Film Criticism.
2018. "From the Ruins: Neomasculinity, Media Franchising, and Struggles Over Industrial Reproduction of Culture." Communication, Culture & Critique, 11.1: 85-99.
2017. "Activating Activism: Facebook Trending Topics, Media Franchises, and Industry Disruption." Critical Studies in Media Communication, 34.2: 148-157.
2014. ""May the Force be with Katie": Pink Media Franchising and the Post-Feminist Politics of HerUniverse." Feminist Media Studies, Forthcoming.
2014. "Figuring Identity: Media Licensing and the Racialization of LEGO Bodies." International Journal of Cultural Studies, 17.4: 307-325.
2012. "Cinematic Destiny: Marvel Studios and the Trade Stories of Industrial Convergence." Cinema Journal, 52.1 (Fall).
2011. "Devaluing and Revaluing Seriality: The Gendered Discourses of Media Franchising." Media, Culture & Society, 33.7 (October): 1077-1094.
2009. "StarCraft Fan Craft: Game Mods, Ownership and Totally Incomplete Conversions." The Velvet Light Trap, 64 (Fall): 50-63.
2008. "A Knight of the Realm vs. the Master of Magnetism: Sexuality, Stardom, and Character Branding." Popular Communication, 6.4 (October): 214-230.
2007. "Inviting Audiences In: The Spatial Reorganization of Production and Consumption in 'TVIII'." New Review of Film and Television Studies, 5.1 (April): 61-80.
Books
2019. Transgenerational Media Industries: Adults, Children, and the Reproduction of Culture. Ann Arbor: University of Michigan Press.
2019. Point of Sale: Analyzing Media Retail (edited with Daniel Herbert). New Brunswick: Rutgers University Press.
2018. From Networks to Netflix: A Guide to Changing Channels (editor). New York: Routledge.
2014. Making Media Work: Cultures of Management in the Entertainment Industries (co-edited with Avi Santo and Derek Kompare). New York: New York University Press.
2013. Media Franchising: Creative License and Collaboration in the Culture Industries. New York: New York University Press.
2013. A Companion to Media Authorship (co-edited with Jonathan Gray). Malden: Wiley-Blackwell.
Chapters
2018. "Spin-offs, Crossovers, and World-building 'Energies'." Reading Contemporary Serial Television Universes: A Narrative Ecosystem Framework, Paola Brembilla and Ilaria A. De Pascalis New York: Routledge, 74-92.
2018. "Fantagonism, Franchising, and Industry Management of Fan Privilege." The Routledge Companion to Media Fandom, Suzanne Scott and Melissa Click New York: Routledge, 395-405.
2018. "Introduction – Pop: Television Guides and Recommendations in a Changing Channel Landscape." From Networks to Netflix: A Guide to Changing Channels, Derek Johnson New York: Routledge, 3-22.
2018. "CBS All Access: To Boldly Franchise Where No One Has Subscribed Before." From Networks to Netflix: A Guide to Changing Channels, Derek Johnson New York: Routledge, 395-407.
2018. "A&E: From Art to Vice in the Managed Channel Portfolio (co-author with David Craig)." From Networks to Netflix: A Guide to Changing Channels, Derek Johnson New York: Routledge, 157-166.
2017. "Production." Keywords in Media and Cultural Studies, Jonathan Gray and Laurie Ouellette New York: New York University Press, 149-153.
2017. "Battleworlds: The Management of Multiplicity in the Media Industries." World Building: Transmedia, Fans, Industries, Marta Boni, Martin Lefebvre, and Marc Steinberg Amsterdam: Amsterdam University Press, 129-142.
2017. "'Share Your Universe': Generation, Gender, and the Future of Marvel Publishing." Make Ours Marvel: Media Convergence and a Comics Universe, Matt Yockey Austin: University of Texas Press, 138-163.
2015. "How Comic Books Travel: Brick-and-Mortar Stores, Digital Networks, and Global Flows." Locating Emerging Media, Germaine Halegoua and Ben Aslinger New York: Routledge, 106-122.
2014. "Chicks with Bricks: Building Creative Identities Across Industrial Design Cultures and Gendered Construction Play." LEGO Studies: Examining the Building Blocks of a Transmedial Phenomenon, Mark JP Wolf New York: Routledge, 81-104.
2014. "Introduction – Discourses, Dispositions, Tactics: Reconceiving Management in Critical Media Industry Studies (with Derek Kompare and Avi Santo)." Making Media Work: Culture of Management in the Entertainment Industries, Derek Johnson, Derek Kompare, and Avi Santo New York: New York University Press, 1-21.
2014. "Authorship Up for Grabs: Decentralized Labor, Licensing, and the Management of Collaborative Creativity." Wired TV: Laboring Over an Interactive Future, Denise Mann New Brunswick: Rutgers University Press, 32-52.
2013. "Going Backstage: Network Heritage, Industrial Identities, and Reiterated Mediation of Saturday Night Live's Work Worlds." Saturday Night Live and American Television, Ron Becker, Nick Marx, and Matt Sienkiewicz Bloomington: Indiana University Press, 130-158.
2013. "Introduction: The Problem of Media Authorship (with Jonathan Gray)." A Companion to Media Authorship, Jonathan Gray and Derek Johnson Malden: Wiley-Blackwell Press, 1-19.
2013. "Participation is Magic: Collaboration, Authorial Legitimacy, and the Author Function"." A Companion to Media Authorship, Derek Johnson and Jonathan Gray Malden: Wiley-Blackwell.
2009. "Franchise Histories: Marvel, X-Men, and the Negotiated Process of Expansion." Convergence Media History, Janet Staiger and Sabine Hake London: Routledge, 14-23.
2008. "The Fictional Institutions of Lost: World Building, Reality, and the Economic Possibilities of Narrative Divergence." Reading Lost, Roberta Pearson London: I.B. Tauris, 29-52.
2007. "Will the Real Wolverine Please Stand Up?: Marvel's Mutation from Monthlies to Movies." Film and Comic Books, Ian Gordon, Mark Jancovich, and Matthw McAllister Jackson: University Press of Mississippi, 285-300.
2007. "Fan-tagonism: Factions, Institutions, and Constitutive Hegemonies of Fandom." Fandom: Identities and Communities in Mediated Culture, Jonathan Gray, C. Lee Harrington, and Cornel Sandvoss New York: New York University Press, 285-300.
Courses
CA 351 – Introduction to Television
CA 540 – Television Genres (Science Fiction)
CA 540 – Television Genres (Superhero TV and Cultural Power)
CA 547 – Digital Game Cultures
CA 557 – Contemporary Media Industries
CA 613 – Franchising in the Media Industries
CA 950 – Production Cultures
CA 950 – Cultural Studies of Kids' Media
CA 950 – Media and Cultural Theory
CA 950 – Culture Industries
Curriculum Vitae