Lea Jacobs
Film
Professor Emerita
608-262-1044
6150 Vilas Hall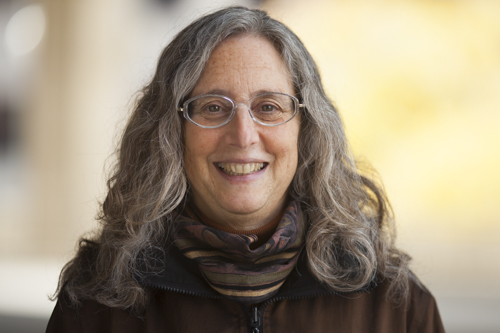 Office Hours:
Monday 2-3 and Tuesday 4-5
Expertise and Activities
Research areas include the history of the American studio system, performance, silent cinema, and film stylistics. My most recent book, Film Rhythm After Sound: Technology, Music and Performance (University of California Press, 2015), examines the rhythmic dimensions of performance and sound in a diverse set of case studies: the Eisenstein/Prokofiev collaboration Ivan the Terrible, Disney's Silly Symphonies and early Mickey Mouse cartoons, musicals by Lubitsch and Mamoulian, and the impeccably timed dialogue in Hawks's films. For access to the video clips: http://www.ucpress.edu/book.php?isbn=9780520279650.
For the open access, online edition of Theatre to Cinema, written with Ben Brewster and originally published by Oxford University Press in 1997, click here: https://digital.library.wisc.edu/1711.dl/Thetr2Cnma. The book may be downloaded by parts. Clicking on the individual illustrations in the pdfs of the parts will allow you to download them as image files (you can choose one of four sizes). While previous accounts of the relationship between cinema and theatre have tended to assume that early filmmakers had to break away from the stage in order to establish a specific aesthetic for the new medium, Theatre to Cinema argues that the cinema turned to the pictorial, spectacular tradition of the theatre in the 1910s to establish a model for feature filmmaking. The book traces this influence in the adaptation and transformation of the theatrical tableau, acting styles, and staging techniques, examining such films as Caserini's Ma ľamor mio non muore!, Tourneur's Alias Jimmy Valentine and The Whip, Sjöström's Ingmarssönerna, and various adaptations of Uncle Tom's Cabin.
Education
Ph.D. Film, University of California, Los Angeles, 1985
Honors/Awards
Senior Fellowship, Institute for Research in the Humanities, University of Wisconsin-Madison, 2018-2022
ACLS Fellowship, American Council of Learned Societies, 2010
Kellett Mid-Career Award, The Graduate School, University of Wisconsin-Madison, 2009
Guggenheim Fellowship, John Simon Guggenheim Foundation, 2002
Rockefeller Post-Doctoral Fellowship in the Humanities, Rockefeller Foundation, 1987
Articles
Books
2015. Film Rhythm After Sound: Technology, Music and Performance. Berkeley: University of California.
2008. The Decline of Sentiment: American Film in the 1920s. Berkeley: University of California Press.
1997. Theatre to Cinema: Stage Pictorialism and the Early Feature Film. Oxford: Oxford University Press.
1991. The Wages of Sin: Censorship and the Fallen Woman Film. University of Wisconsin Press, rpt. University of California.
Courses
CA 357 – History of Animation
CA 556 – History of the American Film Industry in the Era of the Studio System
CA 613 – John Ford and the Classical Hollywood Cinema
CA 950 – The Rise of the Feature Film
Curriculum Vitae