Robert Glenn Howard
Rhetoric, Politics, and Culture
Professor
he/him/his
608-262-2605
6040 Vilas Hall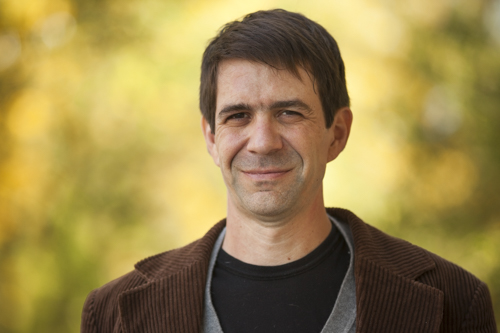 Office Hours:
Current and Upcoming Projects
GunTalk: Everyday Discourse, Weaponized
Gunlore: Folklore about Guns and Why Its Important
The Digital Folklore Reader
Expertise and Activities
Hi.  Call me "Rob"!
I am founder and Director of Digital Studies and DesignLab and Professor of Communication in the Department of Communication Arts at the University of Wisconsin – Madison. I am also affiliate faculty in the Information School, The School of Journalism and Mass Communication, the Religious Studies Program, the Folklore Program, as well as on the advisory board for the Computer, Data, and Information Sciences Division.
Most broadly, my research seeks to uncover the possibilities and limits of empowerment through everyday expression on the Internet by focusing on the intersection of individual human agency and participatory performance. I engage critical cultural theories, rhetorical theory, design theory, as well as theories of performance and performativity to explore the ways that everyday people combine their cultural and technological resources to perform their unique identities in relation to larger groups. Most recently, I am exploring how vernacular forms of authority are trumping more traditional information sources. I am particularly interested in how communication technologies including targeting algorithms, artificial intelligence, "chat bots" and good old fashioned social media interactions are functioning in informal and semi-formal forms in US nationalism generally and the discourses surrounding firearms in particular.
When I am feeling particularly analog, I like to read, think, talk, write about, and even tinker with classic electric guitar designs.
Education
Ph.D. University of Oregon, 2001
M.A. University of California, Los Angeles, 1996
B.A. University of California, Berkeley, 1993
Books
Gunlore: American Traditions about Firearms (ed. with Eric Eliason). Jackson, University Press of Mississippi, 2023. Under contract.
The Digital Folklore Reader (ed. with Trevor Blank and Andrew Peck). Logan, Utah: Utah State University Press, 2023. Under contract.
Text + Field: Innovations in Rhetorical Method (ed. with Sara L. McKinnon, Robert Asen, and Karma R. Chávez). University Park, Pennsylvania: Penn State University Press, 2016.
Tradition in the 21st Century: Locating the Role of the Past in the Present (ed. with Trevor Blank). Logan, Utah: Utah State University Press, 2013.
Digital Jesus: The Making of a New Christian Fundamentalist Community on the Internet. New York: New York University Press, 2011.
Network Apocalypse: Visions of the End in an Age of Internet Media (ed.). London: University of Sheffield/Phoenix Press, 2011.
Selected Articles and Book Chapters
"Manufacturing Populism: Digitally Amplified Vernacular Authority" Media and Communication. 10.4 (2022): 10.4 (2022): 136-147.
"When A Cosmic Shift Fails: The Power of Vernacular Authority in a New Age Internet Forum" in Contesting Authority: Vernacular Knowledge and Alternative Beliefs. ed. Marion Bowman and Ülo Valk. (Sheffield, United Kingdom: Equinox Publishing, 2019). 165-188.
"Vernacular Authority Speaks for the Glock: Heterogeneous Volition in an Institutional Proverb" in Digital Folkloristics. ed. Pekka Hakamies. (Turku, Finland: Folklore Fellows' Communications, 2019). 73-91.
"GunNets: Why a Theory of Heterogeneous Volition Is Necessary in the Study of Digital Communication," Cultural Analysis 16.1 (2017): 116-133.
"The Inheritance of the Digital: Ethnographic Approaches to Everyday Realities In, Of, and Through Digital Technologies," with Coppélie Cocq, Cultural Analysis 16.1 (2017): 1-6.
"Rhetoric and Ethics Revisited: What Happens When Rhetorical Scholars Go into the Field," with Sara L. McKinnon, Jenell Johnson, Robert Asen, and Karma Chávez, Cultural Studies <—> Critical Methodologies (2016): 1-11.
"Digital Network Analysis: Understanding Everyday Online Discourse Micro- and Macroscopically," in Research Methods for Reading Digital Data in the Digital Humanities. ed. Gabriele Griffin and Matt Hayler. (Edinburgh, United Kingdom: Edinburgh University Press, 2015),165-183.
"Why Digital Network Hybridity is the New Normal (Hey! Check This Stuff Out),"Journal of American Folklore. 128 (Summer 2015): 247-259.
"Vernacular Authority: Critically Engaging 'Tradition'" in Tradition in the 21st Century: Locating the Role of the Past in the Present. ed. Trevor J. Blank and Robert Glenn Howard. (Logan, Utah: Utah State University Press, 2013), 72-99.
'The Homo Depot' and Other Works:  Toward a Critique of Vernacular Video," Cinema Journal 51 (Summer 2012): 191-197.
"Enacting a Virtual 'Ekklesia:' Online Christian Fundamentalism as Vernacular Religion," New Media & Society 12 (2010): 729-744.
"The Vernacular Web of Participatory Media," Critical Studies in Media Communication 25 (December 2008): 490-512.
"Electronic Hybridity: The Persistent Processes of the Vernacular Web," Journal of American Folklore 121 (Spring 2008): 192-218.
"Toward a Theory of the World Wide Web Vernacular: The Case for Pet Cloning," Journal of Folklore Research 42 (2005): 323-360.
"Who Posts DeCSS and Why?: A Content Analysis of Web Sites Posting DVD Circumvention Software," with Kristin R. Eschenfelder and Anuj C. Desai, Journal of the American Society for Information Science and Technology 56 (2005): 1405-1418.
"A Theory of Vernacular Rhetoric: The Case of the 'Sinner's Prayer' Online," Folklore 116 (2005): 172-188.
"Sustainability and Radical Rhetorical Closure: The Case of the 1996 'Heaven's Gate' Newsgroup Campaign," Journal of Communication and Religion 28 (2005): 99-130.
"The Double Bind of the Protestant Reformation: The Birth of Fundamentalism and the Necessity of Pluralism," Journal of Church and State 47 (2005): 91-108.
"Apocalypse in your In-Box: End-Times Communication on the Internet," Western Folklore 56 (1997): 295-315.
Courses
CA 969 – Digital Rhetoric
CA 969 – Vernacular Discourse
CA 969 – Seminar in the Rhetorical Theory of Kenneth Burke
CA 976 – Ethnographic Methods for Rhetorical Analysis
CA 478 – Rhetoric and Power Online
FLR 560 – Folklore in a Digital Age
CA 610 / FLR 530 – Ethnography and Internet Communities
CA 570 – Classical Rhetorical Theory
CA 472 – Rhetoric and Technology
CA 347 / RS 347 – Rhetoric of Religion
CA 522 / FLR 522 – Digital Storytelling for Social Media
CA 200 – Introduction to Digital Communication