Kelley Conway
Film
Professor
she/her/hers
608-263-3921
6170 Vilas Hall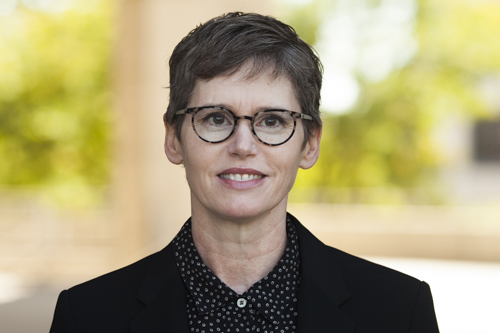 Expertise and Activities
I am interested in French film of all eras, filmmakers' creative processes and their concrete working conditions, the relationships between film and other arts, and the theoretical and practical issues relating to national and transnational cinema. My first book, Chanteuse in the City (University of California, 2004), examines the intersections between popular song and 1930s French cinema through the figure of the realist singer. My second book, Agnès Varda (University of Illinois Press, 2015), explores Varda's key films and installations, focusing on her aesthetic commitments, working methods, and shifting modes of production. I have published articles on popular music in classical and contemporary French cinema, installation art created by filmmakers, and the links between genre and gender in contemporary French film. Among the courses I teach are French Film, European Art Cinema, and Women and Film. I also teach a month-long study abroad seminar in Paris sponsored by the UW-Madison International Academic Programs.
Education
Ph.D. Film and Television, UCLA, 1999
D.E.A. Etudes Cinematographiques et Audiovisuelles, Universite de la Sorbonne Nouvelle, (Paris III), 1992
B.A. English, Carleton College, 1986
M.A. Communication Studies (Film Studies), University of Iowa, 1988
Honors/Awards
Chevalier d'Ordre des Arts et des Lettres, 2020
Distinguished Teaching Award, University of Wisconsin-Madison, 2008
Grant, Wisconsin Humanities Council, 2002
Senior Specialist Grant, Fulbright, 2001
Articles
2021. "Agnès Varda, Producer." Camera Obscura 106, vol. 36, no. 1: 109-125. https://doi.org/10.1215/02705346-8838565.
2019. "Lyrical Akerman." Camera Obscura 100, vol. 34, no. 1: 139-161. https://doi.org/10.1215/02705346-7264154.
2019. "Visages Villages: Documenting Collaboration." Studies in French Cinema 19, no. 1: 22-39. https://doi.org/10.1080/14715880.2018.1545199.
2016. "Demy et au-delà: Expérimentation esthétique dans les films musicaux français récents." La Chanson dans le film français et francophone depuis la Nouvelle Vague.
2015. "Sexually Explicit French Cinema: Genre, Gender and Sex." The Blackwell Companion to Contemporary French Cinema, 461-480.
2014. "Responding to Globalization: The Evolution of Agnès Varda." Substance, 43: 109-122.
2013. "Popular Song in the Films of Jean Renoir." The Blackwell Companion to Jean Renoir, 199-218.
2012. "Brigitte Bardot: From International Star to Fashion Icon." New Constellations: Movie Stars of the 1960s, 183-201.
Books
2004. Chanteuse in the City: The Realist Singer in French Film. Berkeley: University of California Press.
2015. Agnès Varda. Champaign: University of Illinois Press.
Digital Humanities Projects
2018-present. Co-Principal Investigator (with Eric Hoyt), Global Cinema History Task Force, Media History Digital Library http://mediahistoryproject.org). Leading a group of scholars, archivists, and copyright experts to extend the MHDL's global scope by digitizing publications to serve users who can read in English, Mandarin, Spanish, Portuguese, French, Italian, German and Hindi.
Chapters
2012. "France." The International Film Musical, Corey K Creekmur and Linda Y Mokdad Edinburgh: Edinburgh University Press, 29-44.
Courses
CA 350 – Introduction to Film
CA 353 – Film History Since 1960
CA 455 – French Film
CA 613 – European New Waves
CA 613 – Film Festivals
CA 613 – Women and Film
CA 956 – The French New Wave
CA 956 – Globalization and National Cinema
Service
2018-present Chair, Department of Communication Arts
2020-present Director, Wisconsin Film Festival