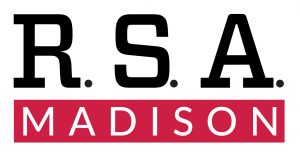 The RSA Student Chapter of UW-Madison provides a forum for gathering as rhetoricians and serves a variety of functions related to furthering the collaborative study and practice of rhetoric. Our goal is to build community across disciplines around our shared rhetorical concerns and provide ample opportunities to share and present ideas. Further, as a nexus of rhetorical engagement, we also seek to cultivate capacity for furthering the Wisconsin Idea; namely, to make a difference in people's lives outside the university.
Events
September 11: Welcome Back Potluck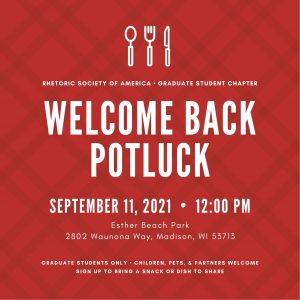 Who: Rhetoric grad students and all pets, partners, and kids!
What: Potluck to reconnect with old friends and meet new ones! Drinks and utensils will be provided but please sign up at this link to bring a snack or dish.
Where: Esther Beach Park Picnic Shelter
When: Saturday, September 11th from 12 pm-3 pm
The park does have a paved, accessible path from the parking lot to the picnic shelter where we will be gathering. We will be outdoors for the duration of the event and social distancing will be possible regardless of the weather. However, please be respectful of your fellow grads and do not attend this event if you feel ill or have been recently exposed to COVID-19.
Officers
To learn more about or get involved with the RSA Grad Student Chapter, please get in touch with one of our officers, listed below.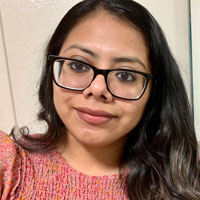 Lupe Remigio Ortega (she/her) | Co-President, Composition & Rhetoric
Lupe is a 4th year PhD Candidate studying migrant/border rhetorics and indigenous migrant literacies.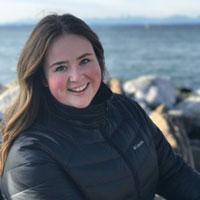 Erin Gangstad (she/her) | Co-President, Communication Arts 
Erin is a 5th year PhD Candidate studying the rhetoric of health and medicine, archival methods and historiography, and rhetorics of space and place.
egangstad@wisc.edu · Twitter: @erinnicole8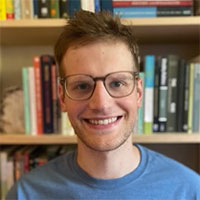 Gabe Carter (he/him) | Treasurer, Composition & Rhetoric
Gabe is a 2nd year PhD student studying the Rhetoric of Health and Medicine, Critical Theory, and Critical Drug Studies.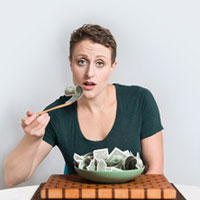 Kai Prins (she/they) | Secretary, Communication Arts
Kai is a 3rd year PhD student studying gender, bodies, and performance in feminist and queer media, along with diets, dogma, and dollars in online fitness and nutrition communities.
kprins@wisc.edu · Twitter: @performingwoman