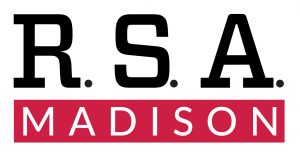 The RSA Student Chapter of UW-Madison provides a forum for gathering as rhetoricians and serves a variety of functions related to furthering the collaborative study and practice of rhetoric. Our goal is to build community across disciplines around our shared rhetorical concerns and provide ample opportunities to share and present ideas. Further, as a nexus of rhetorical engagement, we also seek to cultivate capacity for furthering the Wisconsin Idea; namely, to make a difference in people's lives outside the university.
Events
February 1 – Spring Symposium Applications Due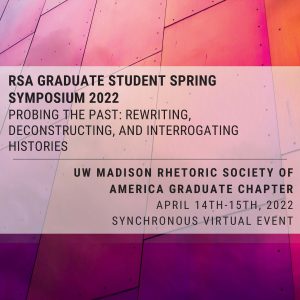 Don't forget to submit a 200-word paper abstract or 400-word panel abstract for our Spring Symposium!
E. Cram will be our keynote speaker for the event! They will be discussing their debut book,Violent Inheritance: Sexuality, Land, and the Making of the North American West, which is due out from University of California Press in the weeks following our Spring Symposium.
Submit your abstract here.
Theory & Practice: BYOL Workshop Series
In theory there are many different ways to practice scholarship. 
In theory we can practice locating our voice, our contributions, and our potential. 
In theory, grad school is where you get practice becoming yourself as a scholar, an activist, an artist, a member of your community and the communities with which you engage, and more. 
In practice, we deepen our engagement with the theories that guide our thinking, become better teachers and lecturers, and get closer to the material that we and others care about. 
We invite our rhetoric grad students to go from theory to practice in our new monthly lunchtime workshop series. In this series, grad students will have the opportunity to practice giving a talk, demonstrate the material application of their research, and engage more deeply with one another's work — all in a supportive, low-pressure environment. 
Join us on the second Friday of every month from 11:30 am to 1 pm for a Bring-Your-Own-Lunch workshop in room 3155, Vilas Hall. 
Our next workshop could be hosted by YOU! Do you have research you want to share, a job talk you'd like to practice, art, music, or poetry you'd like to perform, or material applications of your research or pedagogy you'd like to demonstrate? Here's your chance! Let us know you're interested in hosting a workshop here. 
February 11: Lupe Remigio Ortega
March 11: TBD
April 8: TBD
May 13: TBD
Officers
To learn more about or get involved with the RSA Grad Student Chapter, please get in touch with one of our officers, listed below.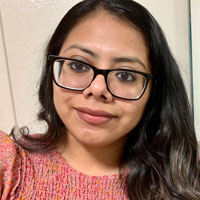 Lupe Remigio Ortega (she/her) | Co-President, Composition & Rhetoric
Lupe is a 4th year PhD Candidate studying migrant/border rhetorics and indigenous migrant literacies.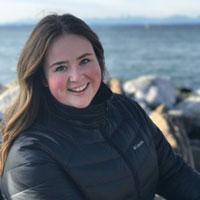 Erin Gangstad (she/her) | Co-President, Communication Arts 
Erin is a 5th year PhD Candidate studying the rhetoric of health and medicine, archival methods and historiography, and rhetorics of space and place.
egangstad@wisc.edu · Twitter: @erinnicole8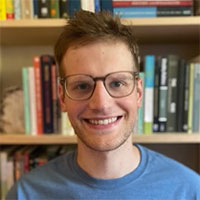 Gabe Carter (he/him) | Treasurer, Composition & Rhetoric
Gabe is a 2nd year PhD student studying the Rhetoric of Health and Medicine, Critical Theory, and Critical Drug Studies.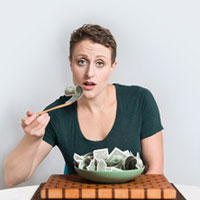 Kai Prins (she/they) | Secretary, Communication Arts
Kai is a 3rd year PhD student studying gender, bodies, and performance in feminist and queer media, along with diets, dogma, and dollars in online fitness and nutrition communities.
kprins@wisc.edu · Twitter: @performingwoman