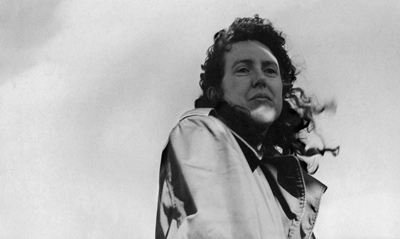 Nietzchka Keene, filmmaker and Professor of Communication Arts, died on October 20, 2004 after a brief but valiant battle with a rare form of pancreatic cancer. She was 52 years old.
Born and raised near Boston, MA, she received her BA degree in 1975 in Germanic Linguistics at the University of Massachusetts-Amherst and pursued her Masters of Fine Arts in Film Production from the University of California at Los Angeles. As part of her graduate work, she produced three short films–Friends (1977), Still (1978), and Hinterland (1983). During her time in LA, Nietzchka worked in various capacities in the LA film industry. She also served as a research assistant in Old Icelandic language and linguistics.
In 1985, Nietzchka received a Fullbright Fellowship to Iceland where she would began writing and preparing production for her award-winning, full-length feature film, The Juniper Tree. Shot on location in Iceland, The Juniper Tree was the first film to star well-known singer and actor Bjork in a story based on a Brothers Grimm fairy tale. She finished the film in 1989, the same year as receiving her MFA.  It has been screened in more than 23 festivals around the world, received top honors and awards, and received accolades and praise from critics.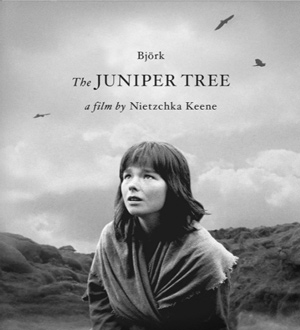 Nietzchka moved on to teach production at the University of Miami. In 1994, she produced a short film there, Aves, funded from various grants including one from the National Endowment for the Arts and used innovative animation techniques to illuminate the spiritual state of a cloistered nun. She received a prestigious ITVS grant to produce her second feature film, Heroine of Hell starring Catherine Keener and Dermot Mulroney, which aired on PBS.
Nietzchka joined the University of Wisconsin faculty in 1995, heading up the video production program in the Communication Arts Department until only two weeks before her death. She left with two uncompleted projects. Her script Belle was based on the true story of an early 20th century female serial killer. And Nietzchka's third feature film, Barefoot to Jerusalem, shot with many of her former students on her crew, was in the final stages of post-production.
The Department has set up the Nietzchka Keene Memorial Fund in her honor, which is used to provide an annual prize for undergraduate(s) student film and video production. Her films and papers have been donated to the collection of the Wisconsin Center for Film and Theater Research, where they will keep her memory alive to students and scholars of the art form she cared so deeply about.
If you are interested in contributing to the Nietzchka Keene Memorial Fund you can do so here.
Nietzchka Keene Prize 2022
Darion Allen
Michael Brennan
Lita Elkendier
Sabrina Greener
Saemee Kim
Caoilfhinn Rauwerdink
Maizong Vang
Nietzchka Keene Prize 2021
Nina Bosnjak
Benjamin Dellheim
Sarah Hanson
Rigoletto Lopez
Natalia Lugovskaya
Olivia Stevens
Rosee Xiong
Nietzchka Keene Prize 2015
Elizabeth Mathis

Alana Woolley

Nietzchka Keene Prize 2014
Greta Becker
Quinn Else
Clark Gapen
Alexander Kaufman
Rebecca Mills
Eric Rhiel
Nietzchka Keene Prize 2013
John Bohlken
Kaitlyn Boss
Nicole Boss
Jerry Mao
Cassandra Schmidt
Kyle Spangenberger
Nietzchka Keene Prize 2008
Justin Daering
Derek Paulson
Julie Ziah
Nietzchka Keene Prize 2007
Bradinn French
Chelsea Smith
Brett Zuckerman