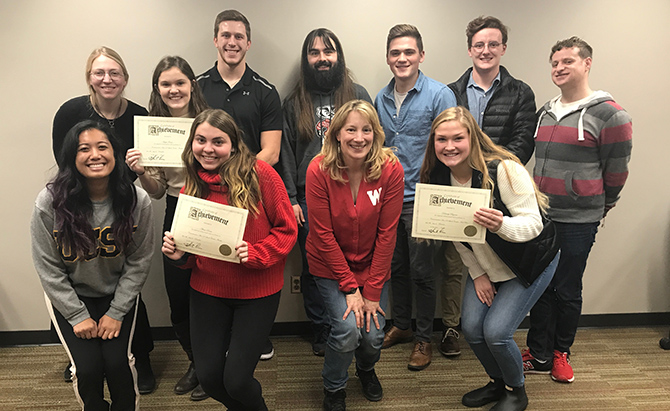 On the evening of December 4, the top 18 persuasive speakers enrolled in the fall semester of Communication Arts 100 competed in the CA 100 Speech Contest.
The speech contest is a long-standing tradition at the end of each semester. Teaching assistants from all sections of the course submitted the speeches of their top two students; from this group, a semifinal field of 18 speakers was chosen. They competed against each other in groups of six with the top two from each group advancing to the final round, which was judged by Professor Stephen Lucas and Dr. Sarah Jedd.
Contest finalists, their TAs, and speech topics were:
Delaney Bignell (Jennifer Wang) The Importance of Going to Class (1st Place)
Nate Kruse (Luke Holmaas) The Problem with Going Greek (2nd Place)
Marty Strey (Joshua Kelly): Bee Population Conservation (3rd Place)
Alexa Rosen (Irene Sarmiento): Nut-Free Zones
Angie Ferris (Liz Koemets): Know Your Rights
Joseph Bachar (Jacob Hellman): The Nuclear Option
Above, the six finalists are pictured with their instructors. Front row from left to right: Irene Sarmiento, Alexa Rosen, Jennifer Wang, Delaney Bignell. Back row from left to right: Liz Koemets, Angie Ferris, Marty Strey, Luke Holmaas, Nate Kruse, Joseph Bachar, Jacob Hellman.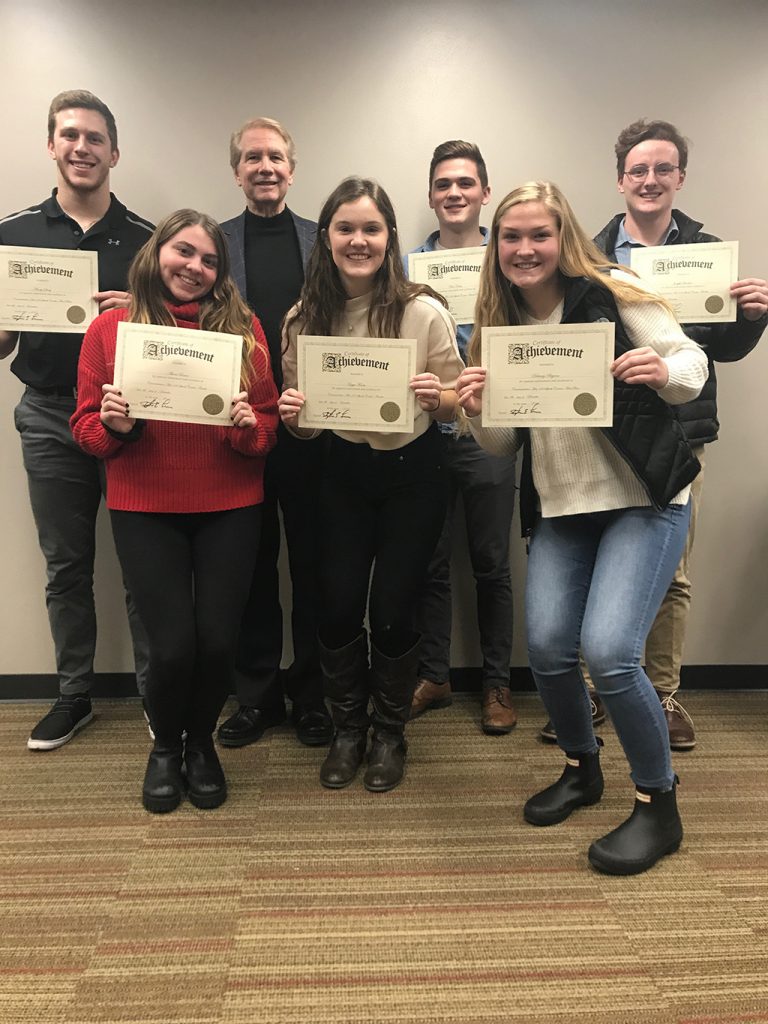 Semifinalists speakers included Dominic Ritacco, Alicia Lorta, Ben Kizaric, Yoyo Yin, Brianne Connors, Brett Grulkowski, Claire Birchenough, Logan Boettcher, Makenna Lay, Hailey Feinzig, Keegan Campbell, and Rosie Rogers.
Congratulations to everyone who participated in the contest!