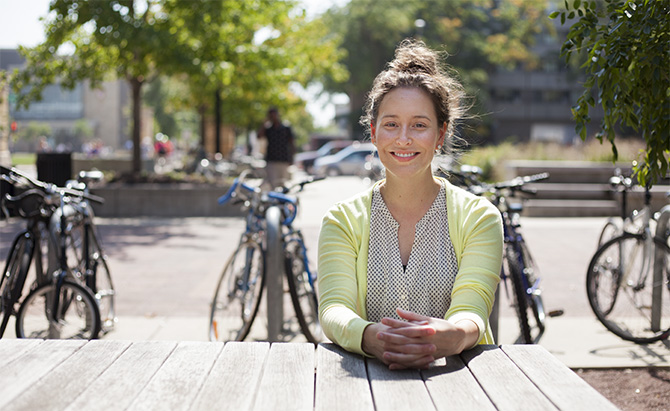 Meet Steffie Halverson, the new undergraduate advisor in Communication Arts. She joins Mary Rossa in advising hundreds of Communication Arts students who travel the halls of Vilas each semester.
Halverson became interested in education after graduating from college. First working in public libraries, she later earned her Master of Science degree in Educational Leadership and Policy Analysis at UW-Madison. During and after graduate school, Halverson worked at Woodland Montessori school for over three years, working with a student with special needs, as well as holding a more full time position in the classroom. She also worked in the Cutting Edge program at Edgewood College, working one-on-one with a student with some learning disabilities to make sure he was on top of his schoolwork and properly communicating with his professors. Now in the fall of 2017, she begins her first semester as an undergraduate advisor.
It is clear from her work and educational experience that Halverson finds working with students one-on-one particularly fulfilling. "As much as group situations can be beneficial, I think working one-on-one with a student allows them to be a little bit more open, and you can really focus on what their specific needs are," Halverson said.
When Halverson was an undergraduate student, she had both bad and great advisors. "I thought if I could be helpful in any capacity, I would love to pay it forward… That was my goal, to be someone that [students] feel they could come to and get their questions answered, and not be so freaked out about the whole process."
Already one of her favorite parts of the job is seeing the relief on students' faces after holding appointments, the reassured look that they are on the right path for the upcoming semester or year.
As an advisor, it's natural that Halverson's main piece of advice to students is to schedule appointments with her or Mary Rossa.She says advisors give students another set of eyes to make sure they are on track, and scheduling appointments helps build an effective advisor-student relationship. Halverson makes sure students fulfill requirements for the major, but she also finds it important to match students with classes they truly enjoy.
Steffie Halverson has walk-in advising hours a few days a week, but the best way for students to meet with her is to set up appointments with the Scheduling Assistant. Both are listed on the advising page.