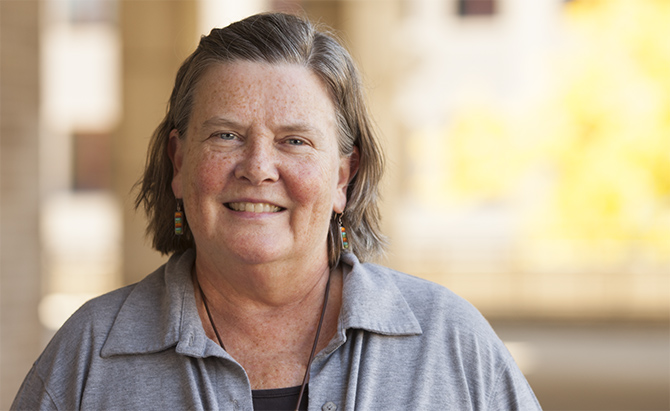 Communication Arts Professor Emerita Michele Hilmes has received the Distinguished Career Achievement Award from the Society For Cinema and Media Studies!
The Society For Cinema and Media Studies (SCMS) is a prominent scholarly organization with nearly three thousand members from thirty-eight countries. The organization holds a conference each year for scholars to share their work, and this year's conference was held in Chicago, Illinois, March 22-26. The award ceremony took place on Friday, March 24, with many Communication Arts faculty and graduate students in attendance in support of Professor Hilmes.
That support is a reflection of Professor Hilmes's professionalism, dedication, and care for her work and the people around her. With scholarship spanning over three decades and several books to her name, it's no wonder Professor Hilmes was deemed worthy of the Distinguished Career Achievement Award, for which nominees are judged on: a record of distinguished contributions to the profession; a significant body of scholarly work over time that has helped shape the field; and active membership in SCMS for a number of years. One could read Professor Hilmes's bio and understand why she received the award, but it is through the comments of her colleagues, former advisees, and friends where one feels the true impact she has had as a scholar and human being.
Michele singlehandedly transformed our understanding of broadcasting history, and her scholarship is unmatched in the field for its comprehensiveness, insight and innovation. I have been lucky enough to collaborate with her on one book, and am currently working with her on an Australian funded project; she is without doubt the best cultural historian working today, an outstanding scholar and a fine friend. She certainly deserves this award.

— Jason Jacobs, University of Queensland
Michele is the opposite of those territorial academics who behave as if they retain property rights to a field and can dictate its direction. Michele encourages others to explore areas of fields she has worked in. She shares information and ideas—and not just with her students but generously with scholars from different institutions, disciplines, and at all levels of the academic hierarchy. Her commitment to supporting others' scholarship springs from a genuine love for the scholarship itself.

— Cynthia Meyers, College of Mount Saint Vincent
Michele's scholarship deservedly gets a lot of credit for sparking the renaissance in radio studies, but at least as important has been her teaching and mentoring. She has inspired two decades worth of grad students to study radio: showing them why it's important and rewarding, and demonstrating why it's exciting. She has followed up that teaching and advising with outstanding mentoring, using her knowledge and stature in the field to help young radio scholars (whether or not they came up through Wisconsin's program) to find each other, find audiences for their work, and find a viable place within the discipline. Yes, Radio Voices was an important contribution to media studies, but it was Michele's teaching and advising that really revived radio studies.

— Bill Kirkpatrick, Denison University
Michele's reputation for being a pathbreaking scholar and an unflinching advocate of the importance of cultural history within media studies (especially overlooked histories!) is so well known that it feels almost silly to repeat some of those accolades here. Instead, I'll just note that in addition to being a wonderful guide and mentor in all of the usual ways (patient, probing, supportive), Michele has a remarkable tolerance for all of my stories about tractor films.

— Kit Hughes, Colorado State University
Over the arc of her career, Michele was an incredibly talented researcher, teacher, and mentor, but she also was a very influential leader and administrator, helping to shape the overall profile and vision of the department and the field of media studies. One could always rely on Michele to be imaginative, clear-headed, and even-handed in her dealings with colleagues, staff, and students. She could pull folks together and get things done under even the most challenging circumstances. She was, quite simply, a model of scholarly professionalism and an inspiration to us all.

— Michael Curtin, University of California, Santa Barbara
Michele was an ideal colleague and was utterly supportive, whether that took the form of offering sage advice, another set of eyes on something, or a cheese plate and a Manhattan. She had an implicit sense of when something mattered and when to fight for it, or when to step back and gain perspective. She was always looking out for her colleagues and her students.

I miss her a great deal. She has a great calming force as a person, and an amazing ability to juggle thirty balls in the air at any time, and to do so effortlessly and artfully, while still knowing how to unwind at the end of the day and know that this too shall pass. Basically, she is really, really good people.

— Jonathan Gray, University of Wisconsin-Madison