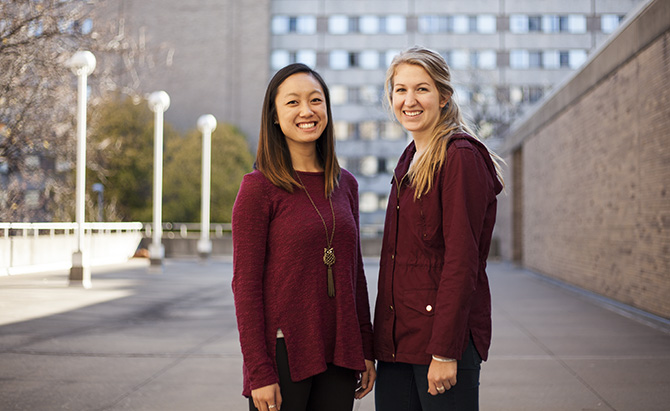 Communication Arts major Maiya Weber and her fellow UW-Madison student Erica Tisdale have initiative. In August 2016, they took it upon themselves to start Team One Love, UW-Madison's chapter for the One Love Foundation. Now they are looking to expand that team.
The One Love Foundation is an organization dedicated to educating people about the warning signs of relationship violence. To accomplish this, Team One Love holds Escalation Workshops during which attendees watch a short film and afterward partake in a guided discussion about abuse. In addition, attendees learn the skills to help themselves and others in abusive relationships. As president and vice president of Team One Love, Weber and Tisdale are proactive about helping their fellow students through Escalation Workshops and more.
"We would also like to do a Yards for Yeardley race in the spring," Weber said. "Yards for Yeardley is an event where teams pledge to go 1 million yards in 30 days. It's usually done by sports teams, but can also be done in conjunction with a 5k fundraising event."
Weber continued, "We're doing everything we can to get our name out there. We'd love to have a table at the spring Org Fair, and also by doing workshops for other organizations, we're hoping to attract more people to join."
When asked about the importance of the One Love Foundation, the answer was clear. "Relationship abuse affects 1 in 3 women and 1 in 4 men, so even if you don't experience it directly, it's likely you know or will know someone who has experienced it," Tisdale said. "It's so important to make sure people know both the warning signs of an unhealthy relationship and the characteristics of a healthy one so that we are better equipped to help ourselves and others."
With their respective majors, both Tisdale and Weber are well-equipped to get Team One Love up and running. Tisdale is majoring in Human Development & Family Studies with a certificate in Education and Educational Services, and Weber is majoring in Communication Arts and Legal Studies.
"I think being a Comm Arts major has given me the tools and the skills to reach out to various orgs and make connections with people," Weber said. "It has also really helped to form a network for One Love on campus and to keep it going long after Erica and I are gone."
To join or find more information about Team One Love, visit their website.
Pictured: Maiya Weber and Erica Tisdale.