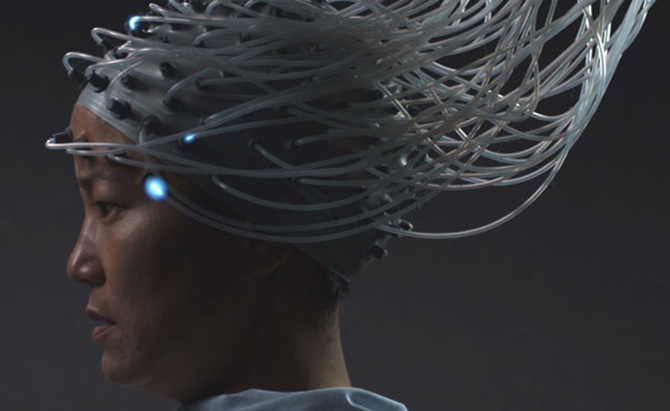 Communication Arts Professor Lori Kido Lopez created an event called Madison's Asian American Media Spotlight in partnership with Cinematheque and WUD Film.  Five Asian American films will make their Wisconsin premiere over the weekend of Oct. 10-11, 2015.  Professor Lopez recently conducted an interview with Jacqueline Kim, a co-writer and star for the opening film, Advantageous.
For more information about Madison's Asian American Media Spotlight, check out this website.
Lori:  Tell me about how you got involved with Advantageous. Jacqueline:  In 2011, Jen (Jennifer Phang, director/ co-writer of Advantageous) got in touch with me about the short version of the film, which was to be produced by PBS' internet channel, ITVS Futurestates.  I read the script and wrote back immediately that I was interested. I had never played a mother before and this was also not long after the passing of my own mother.
Your vision of the futuristic world is part of what makes the film so mesmerizing.  Tell me what went into creating that future world.  What was important to you about how you represented the future?We imagined a world built from the one we live in and wanted the audience to identify with what they saw, even if some of these elements are trickling into our realities at different rates. So, to highlight hyper-productivity visually, the cityscapes were rendered very full. Drones will fill the atmosphere, so we wanted them there. And we replicated events like 9/11 on a smaller scale as every day happenings—as people are experiencing in the Occupied Territories or Afghanistan. In the future, there will be a dearth of quiet spaces. A​nd as we ​move further into the Anthropocene (era), a time of irreversible environmental change brought about by humans, we emphasized humans' need to comfort themselves with nature or natural forms to counter the material weight of greed and opulence.
The ​story focuses on the tenuous connection people build with one another across screens, audio devices, sensors versus this ​one-on-one, ​intimate relationship between our mother and daughter. It's a love paean to human-to-human connection and the power of nurturance.  Too, we wanted to offer an expanded notion of family that is becoming more relevant to most non-​affluent lives in major cities—a family made of ​disparate people thrown together with a common need connecting them.
How would you say that Advantageous is different from other Asian American narratives films?One thing people have commented on is that our film folds the Asian American identity of this mother and daughter into the story as though it is the norm. I did set up Gwen's interior architecture to be one that is typical of an Asian American woman—effete presentation, performative focus, and most relevant to the story, lack of familial support due to her 'unethical' actions as an unmarried woman. There is great pressure in Asian American families to succeed and there are still strong rote formulas for this which can come with strict moral codes.
What was it like to be the writer AND the star?Honestly— exhilarating and exhausting. I wrote several ​feature ​scripts before Advantageous, ​and shot a few of my own short films, but this was the stand-out opportunity—to write something that was  definitely going to be made. I didn't think too much about writing for myself, because that might have freaked me out. I thought more about the short film, which Jen had penned, and how we would embed the best aspects of that story into this new, feature length experience. My involvement with the film ended up being quite heavy, ​from finding locations to costumes to casting, so when it came time to read the film aloud together, I ​was sort of like, ooh, I better do some homework. But there was so little time!
Tell me about your relationship with the young star of the film, Samantha Kim.  How did you develop such amazing chemistry as the mother-daughter duo at the heart of this film?A filmmaker friend once said to me that successful filmmaking is 90% casting, so this is all Jen. Sam has a great mother in real life, and they were together the whole journey of the film on set. I learned a lot watching them, I slowly made my way towards developing a trust with Sam as I find it quite important that young performers have all the rights older performers have. Sometimes you need to wait for them to find out what those rights are—and then support their discoveries. I often find it charming that, although Sam was committed to the work, she also had the ability to let it go. It didn't mean to her what it meant to me—having been an actor 20 years longer—so I learned a lot. She made me a better actor for sure—though I will admit it's not easy acting with someone who is kind of not acting. Brought the bullshit radar to a whole new level.
Why do you think people should come see it?  If you are a thoughtful person about the future and you'd like to see a humanistic approach, this is a film for you to see. We've been measured against the sci-fi genre in several ways, ranging from being called 'feminist sci-fi' to  'domestic sci-fi'. What I think we attempted to do was to bring to light those things in our present life we may not be ready to let go of and that we think are important to remember.