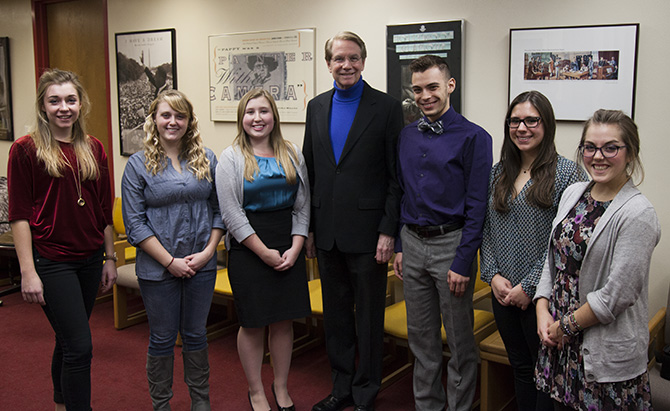 On the evening of December 10, the top 21 persuasive speakers enrolled in the fall semester of Communication Arts 100 competed in the CA 100 Speech Contest.
The speech contest is a long-standing tradition at the end of each semester. Teaching assistants from all sections of the course submitted the speeches of their top two students; from this group, a semifinal field of 21 speakers was chosen.  They competed against each other in groups of seven, with the top two from each group advancing to the final round, which was judged by Professor Stephen Lucas and Dr. Sarah Jedd.
Contest finalists, their TAs, and speech topics were:
Erica Berndt (Jacob Mertens) The Case Against Factory Farms (1st Place)
Laura Oberwetter (Nicholas Benson): Decriminalizing Street Art (2nd Place)
Sadie Dorf (Seth Sherwood): Mandatory High School CPR Certification (3rd Place)
Paige Brecht (Grant Suhs): Keeping a Diary
Sam Wlebel (Staci Duros): Voter ID Laws
Alexandra Burki (Myles McNutt): Crisis Pregnancy Centers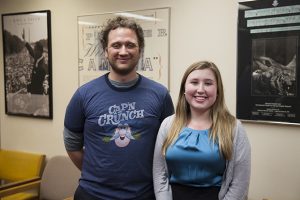 The first-prize winner Erica Berndt is shown here with her TA, Jacob Mertens. She received a cash prize of $200.
The second-prize winner Laura Oberwetter is shown with her TA, Nicjolas Benson. She received a cash prize of $150.
The six finalists are pictured here with Professor Stephen E. Lucas.  From right to left:.
Congratulations to them—and to everyone who participated in the contest!
Pictured above from left to right: Laura Oberwetter, Paige Brecht, Erica Berndt, Stephen E. Lucas, Sam Welbel, Sadie Dorf, Alexandra Burki.