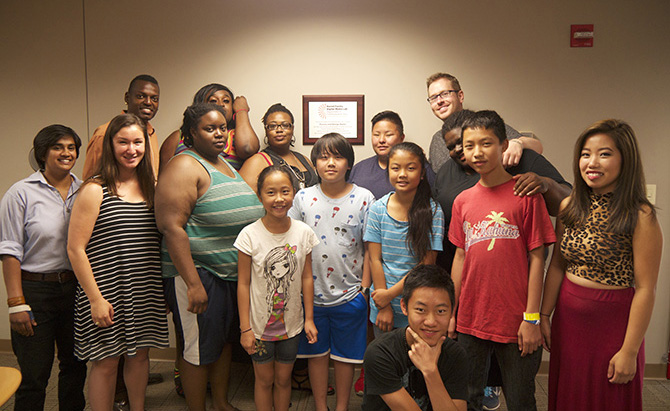 For one week this summer, Professor Lori Kido Lopez and graduate assistant Taylor Cole Miller hosted the Vilas Video Camp with Freedom Inc. This local non-profit serves the needs of low- to no-income communities and youth of color in Dane County through leadership development and community organizing. They strive to end violence against youth of color, gender non-conforming individuals, and queer youth by inspiring and empowering those most affected.
Working alongside Freedom Inc. for the past two years, Lopez is teaching participants how to tell their stories. She conceptualized the Vilas Video Camp as an outgrowth of her research on how minority communities use media for social justice and enlisted Miller, a former journalist and graphic designer, to coordinate the curriculum. Camp participants learned the fundamentals of representation, photography, lighting, design, and video production under the instruction of Lopez, Miller, and Sasha Wijeyeratne of the Multicultural Student Center. The videos they created — "Love is Love" and "Free to be Me" — brought awareness to issues of gender, race, and sexuality. The students premiered their short films at Freedom Inc.'s summer leadership retreat in July.
"I was blown away by these students and their articulate activism," said Miller.
Lopez explained that it is important for her to use her research in a way that empowers local communities.
"It was so great to see the students challenge themselves, learn new skills, and create something of their own," she said. "I could tell how proud they were to see their work on the big screen. I hope that we can continue to develop the Vilas Video Camp as a way of increasing the impact of the university beyond the classroom."