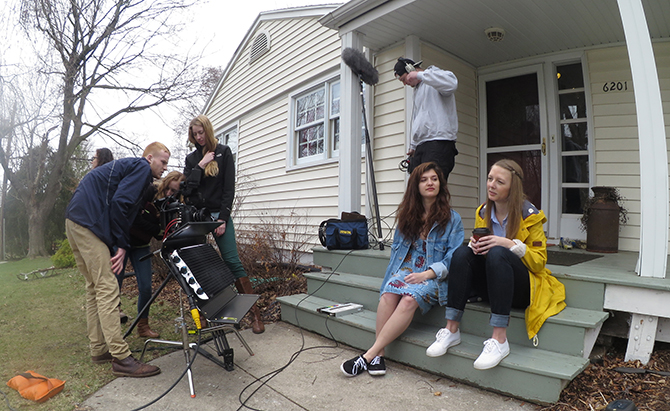 The Hamel family has been a benefactor to Comm Arts for many years. This past winter, they made another substantial gift to the department that greatly improved the equipment resources for advanced film production courses at UW-Madison. The following are the highlights from the gift:
Canon C500 4K Cinema Cameras
A Canon C300 Cinema Camera
Professional shoulder mounts
Sennheiser shotgun microphones
A fleet of professional lights from Arri, Joker-Bug, and Kino Flo
Additional network storage space
Avid control surfaces for color correction and audio editing
All of these items will enable advanced production students in Communication Arts to create richer, more polished, and more professional work than was previously possible in the department. The Canon cameras capture high resolution 2K and 4K images, with great color depth and exposure latitude. The new Arri and Joker-Bug lights offer solutions for lighting large exteriors, and the Kino Flos provide excellent sources for soft light, with versatile color temperature options. In order to take advantage of the color depth of the new cameras, the Avid control surfaces work with powerful software to put full color-grading control at the students' fingertips in post-production. In short, future students in advanced production courses will have hands-on experience with equipment used in the industry today.
In the spring semester of 2014, the students of CA 659: Advanced Motion Picture Production Workshop were the first to use the new equipment. Two crews produced the shorts Love, Quinten and Seventeen Blue, some of the most refined films to come out of the course. They are currently being submitted to film festivals around the country and would not have been possible without the Hamels' contribution.
Communication Arts looks forward to more great work from students in the years to come!
Pictured: CA 659 students on the set of Seventeen Blue. Photo credit: Billy Johnson.