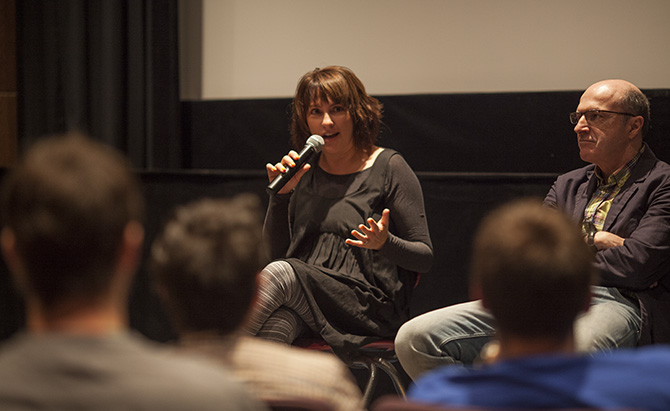 On Thursday, November 14th, Communications Arts alumni Jill Soloway and Jim Frohna visited campus for the screening of the feature film Afternoon Delight. The film was the debut feature for both writer/director Soloway and cinematographer Frohna.
Although showing her film in Madison was the primary reason for Jill Soloway's visit, she filled her visit with not one, not two, but three talks in addition to a post-screening Q&A. Both she and cinematographer Jim Frohna attended UW-Madison as undergraduate students, and both took the time to meet with students and faculty alike.
Thursday was a busy day for both parties. In the morning, Soloway met with Comm Arts 466: Writing for Television and Film, where she shared her experiences writing for HBO's Six Feet Under, Showtime's United States of Tara, and her new film. In theafternoon, Frohna met with students from Comm Arts 467: Cinematography & Sound Recording to discuss the craft and how he worked his way up in the industry. Just a couple hours later, Soloway had a guest talk in 4070 Vilas Hall with the faculty and graduate students of the Communication Arts Department. Those in attendance engaged in a thoughtful discussion on filmmaking, Soloway's experience at HBO, and the future of productions made by streaming platforms like Netflix and Amazon Instant Video. Finally, Soloway also met with undergraduate students Friday morning to talk about the industry and writing for the screen.
Afternoon Delight was screened Thursday evening at the Marquee Theater in Union South through an ongoing collaboration between the UW Cinematheque and WUD Film.
The packed theater laughed, fell silent, and sometimes squirmed in discomfort as it followed the twists and turns of the dark dramedy's quick ninety-five minutes. After the screening, Jill Soloway introduced a panel including Jim Frohna and UW-Madison's associate professor of American Jewish History Tony Michels and assistant professor of Gender and Women's Studies Ellen Samuels. Before opening the discussion for a Q&A session with the audience, Soloway led the panel with a series of questions that helped define the film's depictions of modern American Jewish life, female empowerment and sexuality, and emotional cinematography. The film and discussion showcased Soloway's sensitive and confident directing in her debut film, making it easy to see why she won the Directing Award in the Dramatic Competition at Sundance Film Festival this year.
We truly appreciate Soloway and Frohna sharing their work, time, and knowledge with us, and hope to see them again soon.