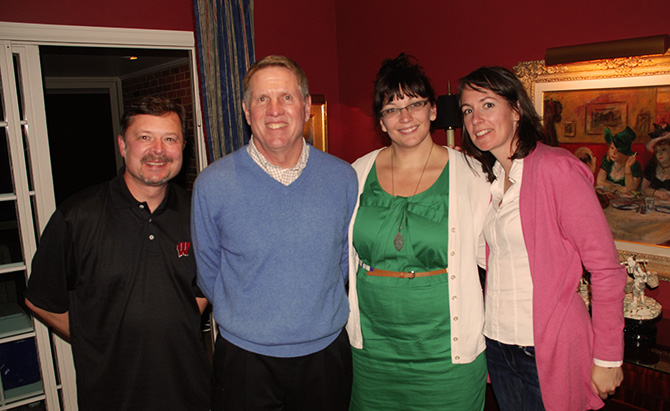 The Department was pleased to welcome the Communication Arts Partners (CAPs) back to campus during the recent Homecoming weekend (October 11-12).  The CAPs group consists of generous spirited alumni and emeritus faculty who have formed a departmental board of visitors to support the mission of Communication Arts.   (For more on CAPs and its membership, visit the Alumni section of the website.)
CAPs members journey to Madison each year in fall and again in spring semesters to meet with department representatives to plan initiatives in outreach and advancement, and they commit their time, resources and professional expertise on behalf of the Department and its students.
This semester, all campus departmental boards coordinated plans by convening on Homecoming weekend and so as to meet with the new Chancellor Rebecca Blank and with the new L&S Dean John Karl Scholz. And in addition to the CAPs business meetings, the CAPs group had a chance to socialize with Comm Arts faculty and staff at an enjoyable party hosted by  Steve and Patti Lucas.
The Department thanks all current and emeritus CAPs members for their wonderful support!
Pictured from left to right: Scott M. Broetzmann, Vance Kepley, Jennifer Karlson, Carolynne Thomas at the CAPs reception.