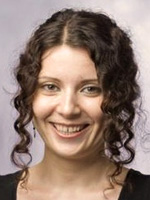 A few weeks ago, Comm Arts Professor Catalina Toma was interviewed on the Joy Cardin show on Wisconsin Public Radio's (WPR) Ideas Network, where she spoke at length about her research on self-presentation and deception in online dating. Professor Toma has published a number of scholarly articles on this topic, most recently in the Journal of Communication and New Media & Society,  two of the most prestigious journals in the field of media and communication.
Analyzing a group of online daters and the photos and personal information they created for Internet dating profiles, Professor Toma's findings reveal, among other things, that the more deceptive the self-description, the less likely the dater is to use the first-person pronoun "I," the more likely they are to employ negation, and the shorter the overall entry will be. Based on these indicators, she and her colleague, Cornell University professor Jeffrey Hancock, were able to identify liars approximately 65-percent of the time. And about 80-percent of the online dating profiles they studied were falsified in some way.
You can listen to the entire conversation between Professor Toma and Joy Cardin here.
Professor Toma joined the Communication Science area of Comm Arts in 2010, after receiving her PhD from Cornell University. In addition to her radio show appearance, Professor Toma and her work were recently profiled in a UW-Madison News story that can be read online here.