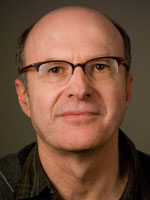 2012 may only be a little over a month old, but film Professor J.J. Murphy's year has been off to an incredibly busy start and it will only be getting busier in the next couple months. In January, some of Professor Murphy's film work premiered in an exhibition, Limits of Photography, at the Museum of Contemporary Photography (MoCP) in Chicago. On February 2nd at MoCP, as part of the museum show, he participated in a special screening and discussion of his rarely-seen seminal film Print Generation (1973-74) – a unique piece of visual art in which the imagery of a one-minute piece of film, re-photographed 50 times over, becomes distorted to the point that the footage is made entirely abstract and unintelligible. The Limits of Photography exhibition, which "explores the area where the viewer loses faith in the veracity of photography," will be on display through March 25th.
In March, Professor Murphy will be showing films and speaking about the movies of Andy Warhol at the 8th Annual Brakhage Symposium at the University of Colorado Boulder's Brakhage Center. The symposium, named in honor of the late, legendary experimental filmmaker and CU-Boulder professor Stan Brakhage, serves as a forum for filmmakers, scholars, critics, and curators to discuss and explore contemporary experimental film.
All of this leads up to the publication of Professor Murphy's new book, The Black Hole of the Camera: The Films of Andy Warhol, which will be published by the University of California Press in April. The book, his follow-up to Me and You and Memento and Fargo: How Independent Screenplays Work (Continuum, 2007), is the first comprehensive study of the Pop Art artist's films. It covers Warhol's early films, sound portraits, involvement with multimedia (including The Velvet Underground), and sexploitation films, as well as his more commercial works.