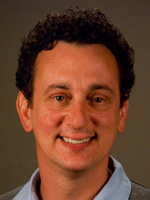 Professor Robert Asen's book Invoking the Invisible Hand: Social Security and the Privatization Debates (Michigan State University Press, 2009) was recently selected as the winner of the 2011 Kohrs-Campbell Prize in Rhetorical Criticism. The prize was awarded to Professor Asen earlier this month in a ceremony at the National Communication Association 97th Annual Convention in New Orleans.
The Kohrs-Campbell Prize, which was established through the generosity of prominent rhetoricians Karlyn Kohrs Campbell and Paul Newell Campbell, is awarded biennially for a book-length manuscript published through the Michigan State University Press, home to the prestigious Rhetoric & Public Affairs Series. The award is designed to support original research and scholarship of the highest quality in the field of rhetorical criticism, and it is among only a few such honors available to American scholars practicing the study of rhetoric and rhetorical criticism.
Professor Asen has been with the Communication Arts department in the Rhetoric area since 1999. His research explores public policy debate and public sphere theory, in particular the relationships between social and economic inequality and public deliberation. He is also an affiliate at the Institute for Research on Poverty (IRP) at UW-Madison. Invoking the Invisible Hand is his second book, following 2002's Visions of Poverty: Welfare Policy and Political Imagination (Michigan State University Press) and a pair of edited volumes. Last year, Professor Asen won the National Communication Association's Winans-Wichelns Award for Distinguished Scholarship in Rhetoric and Public Address, also for Invoking the Invisible Hand.